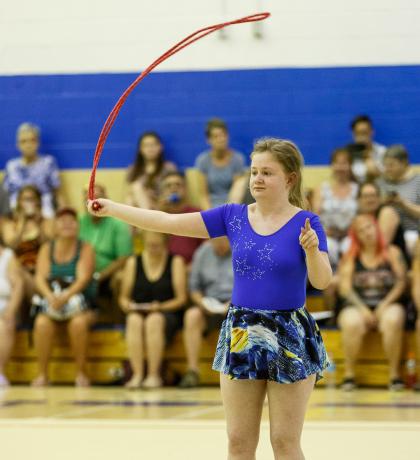 The next five years of Special Olympics is focused on creating global inclusion through inspired action to end discrimination.
One of the keys to achieving this goal is athletes leading the charge and being a face for this movement, especially younger athletes.
Cheyenne Jaque or "Chey" is a star on the rise and her latest achievement was competing at the 2018 Special Olympics Canada Summer Games in Antigonish, Nova Scotia for Team Alberta.
"It's an honour," said Jaque, on being part of Team Alberta. "I make sure I go to every practice."
No stranger to routines, Jaque continues to inspire people through setting goals for herself and reaching them in both her personal life and in sport.
The 21-year-old rhythmic gymnast competed at Nationals for the first time after starting gymnastics and joining Special Olympics a mere three years ago.
Jaque chose to start gymnastics because she likes to move and through her dedication to practicing, she can now add Nationals experience to her resume.
She was the lone competitor hailing from Coaldale, Alberta and while representing her town and province, she was able showcase her skills at the National level.
The support from Jaque's family has been an important factor in her success, adding that her mom is her personal hero, as she is always there for Jaque.
For Jaque, Special Olympics is a place to meet people and get exercise through sport.
"[Special Olympics] has made me more outgoing and physically active," said Jaque.
In her spare time Jaque has worked at the Ability Resource Centre in Lethbridge two days a week for the past three years. Her hobbies include cooking, listening to music, and attending concerts.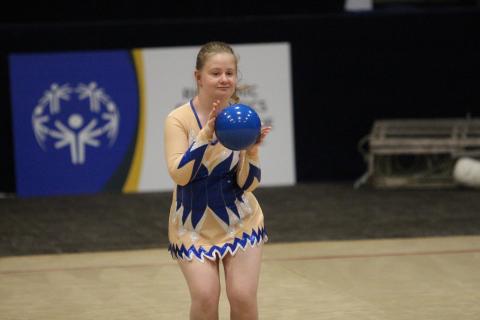 Jaque has proven she can achieve what she puts her mind to as evidenced by her excellent performance at the 2017 Special Olympics Alberta Summer Games in Medicine Hat.
She competed in four Level 1 events including hoop, ribbon, rope, and ball.
Jaque shined throughout the weekend earning a gold in hoop (Div. A), as well as ribbon (Div. C), a silver in rope (Div. A), and a bronze in ball (Div. A), which ultimately earned her the bronze medal in the all-around category (Div. A).
"I go to practice two times a week and work on my routines at home," said Jaque.
Walking away with five medals is an impressive feat and Jaque's next goal is becoming fully independent.
Jaque's training and commitment to her routines was evident in Nova Scotia as she earned one silver and 4 bronze medals:
Silver: Rope (F1-03 division)
Bronze: Hoop, Ball, Ribbon, All-Around (F1-03 division)
Special Olympics empowers children, youth and adults to expect and demand more from themselves – more from society.
For Jaque inclusion is routine and you can help make it routine too by referring a friend or family member to Special Olympics!