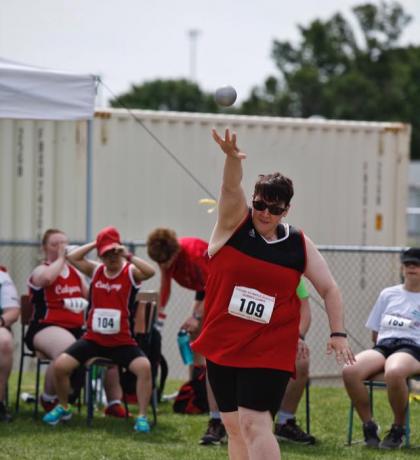 "I used to have very low self-esteem from being bullied in school and would walk with my head down. I hated myself because I had a disability and always felt judged. Joining Special Olympics slowly changed how I felt and thought about myself. I was encouraged, never judged or given up on. I was allowed to be me, without having to hide my disability, rather be given [a chance] to show my abilities." – Special Olympics Alberta athlete, Leonka Kaluha
Throughout her life Leonka Kaluha has battled adversity in the form of bullying and judgment - simply for being herself.
Despite these hardships, she continues to challenge herself to be the best she can be and getting involved with Special Olympics was her first step.
"[Special Olympics has taught me] to be strong, stand tall, how to be part of a team, be proud of who I am and know that no matter what as long as you give your best effort that is all that is required," said Leonka.
After turning 18, Leonka registered for 5-pin bowling and swimming with Special Olympics Alberta – Calgary because she wanted to make new friends and stay active.
She hasn't looked back since.
For Leonka, gaining confidence and loving herself have been her biggest challenges, but she has worked hard to overcome them.
Now, she has a challenge for the world: to make inclusion second nature and for people to respect athletes, including herself, for their abilities, not disability.
"It would be great if there was empowerment and inclusion not only in sports, but in everything for people with disabilities," said Leonka.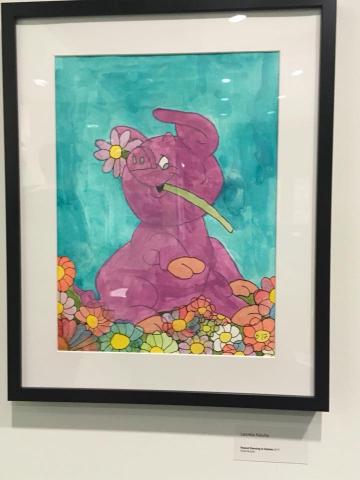 Leonka is utilizing her talents to pursue other passions including art. 
She currently belongs to an art program at where she is honing her skills while learning new techniques. Recently, she submitted her painting, "Peanuts Dancing in Daisies," to the John's Crazy Socks Design Contest at Indefinite Arts.
Her piece was selected as the winner and now appears on a pair of John's Crazy Socks. Five percent of all John's Crazy Socks sold go to support Special Olympics programs and you can snag a pair of socks featuring Leonka's design here!
"I thought Peanuts was a cute little pig that I drew dancing in daisies and that it would look cute on a pair of socks," said Leonka.
The painting itself was also submitted to exhibitions in Hong Kong and South Korea where it was sold!
The 34-year-old is not just an incredible artist, but she is also quite the athlete.
Leonka competes in many sports including alpine skiing, athletics, floor hockey, and soccer.
She is currently training to compete at the 2019 Special Olympics Alberta Winter Games in Calgary with her floor hockey team.
"My favourite winter [sport] is floor hockey because you play as a team with your friends," said Leonka.
Looking at the next few years, Leonka is motivated to use her voice to share her experience on how Special Olympics has impacted her.
"Do it," said Leonka on athletes joining Special Olympics, "You won't regret it, you will make lifelong friendships and become healthier and happier in the process."
People with intellectual disabilities are done being left behind. We're ready to show the world the power of inclusion.
Leonka Kaluha is up for the challenge. Are you? 
Make a donation to Special Olympics Canada today.