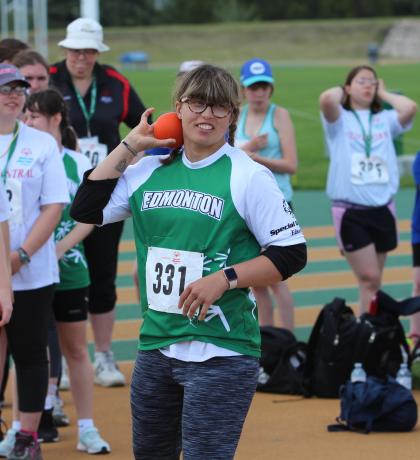 As she steps into the circle, Team Alberta's Mackenzie Narbonne is focused and ready to throw the shot.
The 24-year-old Narbonne started competing in Special Olympics 12 years ago and she has been a formidable competitor across a variety of sports.
Mackenzie is a versatile athlete who has excelled in softball, soccer, floor hockey, powerlifting, and athletics.
Her dedication is evident, as she hits the gym five times a week for cardio and strength training. She has improved her game and overall fitness through implementing healthy eating habits and regular exercise.
"It allows me to become an elite athlete in a supportive environment," said Mackenzie on Special Olympics. "I make new friends with every competition while pushing myself all the time."
Striving to make a difference is a reflection of the new generation of athletes who are changing the game by helping to make inclusion second nature.
In 2014, she competed in softball at the 2014 Special Olympics Canada Summer Games in Vancouver.
Mackenzie and her team claimed gold, but despite her achievements in the softball she was intrigued by athletics.
She worked extremely hard to reclaim her spot on Team Alberta and she was able to achieve her goal in a new sport nonetheless.
After only two years competing in athletics she earned a gold medal in long jump and shot put, along with a silver medal in the 100m dash at the 2017 Special Olympics Alberta Summer Games in Medicine Hat.
"I commit to train and be my best self by the time I get to travel to the National Games." – Mackenzie on preparing for Nationals
Mackenzie's impressive performance earned her a spot at the 2018 Special Olympics Canada Summer Games and she was able to use this momentum in combination with her Nationals experience to excel in Antigonish, walking away with the gold medal in shot put (F6 division).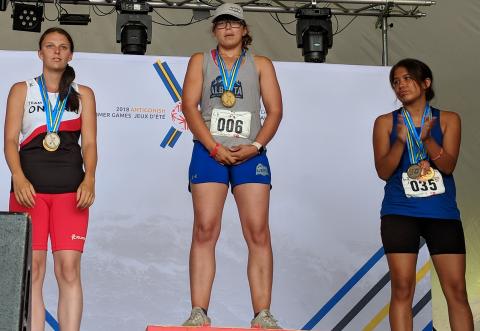 This result was not a surprise, as throughout training camp, Mackenzie made notable strides in her fitness. Athletics head coach, Marie Powell updated us throughout the months leading up to Nationals and stated that Mackenzie improved in the following areas:
Mackenzie held her plank 44 seconds longer
Mackenzie held her wall sit 1 min 43 secs longer
Mackenzie did 20 more push-ups in 1 min
Mackenzie's goal is to represent Canada at the World Games one day and with her continued dedication to sport it seems like it is only a matter of time until she achieves this goal.
Mackenzie has a bright future in Special Olympics and that future is inclusive. The time is now to start building a future without discrimination.
Special Olympics athletes are celebrating 50 years of strength, determination and the confidence to take on any challenge in sport – and in life.
Be a revolutionary in this movement by accepting the challenge to help end discrimination by donating to Special Olympics today.