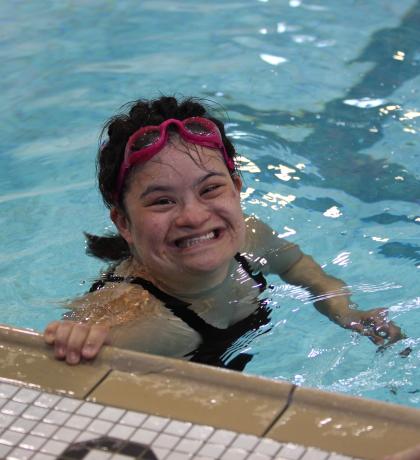 Through the transformative power of sport, Special Olympics gives individuals with intellectual disabilities the strength, determination and confidence to take on any challenge in sport and in life, giving them the courage to stare down any hurdle and respond: Challenge Accepted.
Young athletes are accepting the challenge and driving the movement to spread joy, courage, and friendship with the world.
One of those athletes is Team Alberta's Jodi Tanigami who recently swam in her first Nationals at the 2018 Special Olympics Canada Summer Games in Antigonish, Nova Scotia.
Tanigami, who competes as a member of the Calgary affiliate, has been swimming with Special Olympics for nearly 16 years and she stated that being involved has opened the door to many new experiences.
She has continued to swim because it is fun, she enjoys swimming lengths, experiencing swim meets, and her appreciation for the coaches.
Her teammates inspire her, as they all work hard to help each other improve, which has ultimately helped Tanigami grow as a swimmer.
"I get to play sports, meet new friends, and have fun," said Tanigami. "[I] see my friends and teammates and get to I get go tournaments. I know lots of people and get to play lots of different sports and get to go to some dances."
Tanigami maintains an active lifestyle through her hobbies, which include doing yoga, dancing, and taking DANCEPL3Y fitness classes. She also enjoys puzzles, knitting, watching television, and going out with friends or family.
While Tanigami was selected to compete in swimming she is a multi-sport athlete who also participates in golf, bowling, and floor hockey.
She may not have competed at Nationals before, however, her performance at the 2017 Special Olympics Alberta Summer Games in Medicine Hat proved she was ready for the big stage.
Tanigami accumulated a gold and two bronze medals in the 100M individual medley, 50M breast stroke, and 50M freestyle respectively.
In addition to her performance in Medicine Hat, Tanigami trained hard to prepare for nationals by attending four swim practices a week, running on the treadmill, and cross training.
"Makes me happy to be part of Team Alberta," said Tanigami. "I get to go [to] Nationals and I like to have more chances to compete and get more training."
Tanigami looked great at Nationals and came close to reaching the podium on three of her events. She was able to secure fourth in the 50 M breaststroke (F5), 100 M breaststroke (F4), and the 100 M individual medley (F4) - along with a sixth place finish in the 50M freestyle.
It was a great performance and she represented Alberta proudly bringing a positive spirit and encouraging mindset to Team Alberta swim.
For the past 50 years, Special Olympics across the country has been enriching the lives of Canadians with intellectual disabilities, but we can't do it alone – nor can the 800,000 Canadians with an intellectual disability.
Tanigami continues to make a splash as a young leader and we need you to help ensure Special Olympics continues transforming lives for another 50 years by making a donation to Special Olympics today.