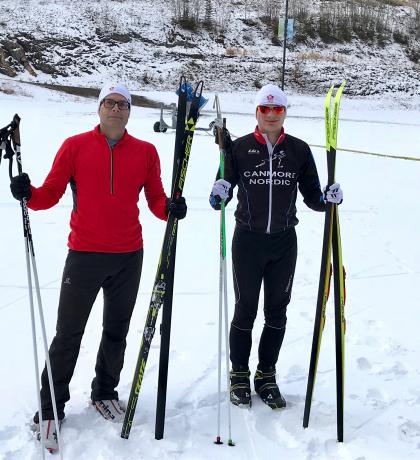 A lack of fresh snow in Calgary forced the cancellation of cross country skiing at the 2019 Special Olympics Alberta Winter Games, but now they will head to Greater Vernon, B.C. to compete at the SOBC Winter Games.
This weekend, a team of 16 skiers, coaches, and mission staff will travel to Vernon for their shot at gold as SOBC graciously hosts cross country athletes from Alberta
Chef de Mission – Jill Moore (SOA)
Mission Staff – Karen Hurley (Calgary)
Head Coach – Shawn Jesse (Bow Valley
Coaches – Rene Hale (Bow Valley), Lois Ross (Calgary), Beth Vesely (Calgary)
Athletes:
Kristen Hudson and Cassandra Ostendorf (Edmonton)
Elouise Stewart, Shane Stewart, Brock Jesse, Colin Hale (Bow Valley)
Erica Manson, Emily Ross, Kate Vesely, Sarah McCarthy (Calgary)
Among the team heading to Greater Vernon are members of the SOA-Bow Valley cross country team: Brock Jesse, Shane Stewart, Elouise Stewart, and Colin Hale who are ready to hit the trails for a fun weekend of skiing.
"My favourite experience from a previous Provincial Games would have to be walking in with my team during the Opening Ceremonies," said Brock. "I enjoyed competing and spending time with my teammates [and] I will never forget the feeling of standing on the podium for the first time."
20-year-old Brock Jesse has been competing with Special Olympics Alberta since 2009 when he joined the FUNdamentals program in Calgary.
A year later, he was skiing the trails.
"I like skiing because it is peaceful when I am out skiing on the trails and in the trees."
Brock is now an experienced racer who is returning to Provincials after a great run at the 2015 Winter Games in Grande Prairie where he won three silver medals, which earned him a spot on Team Alberta.
He was the youngest member on the team in Newfoundland and he excelled again at Nationals earning two silver medals and a bronze.
"My goals for the games will be to have my personal best in each of my races, to meet new people, and hopefully to end up on the podium with a gold," said Brock.
Combined with his experience Brock has prepared himself by training year-round.
He skis twice every week, runs once a week, does hill climbing and polling, along with a weight training program.
Brock trains with his father Shawn, who is also his coach and the two both run as members of the Red Rock Runners who take part in the 5 Peaks Trail Running Series and various other 5-10K races.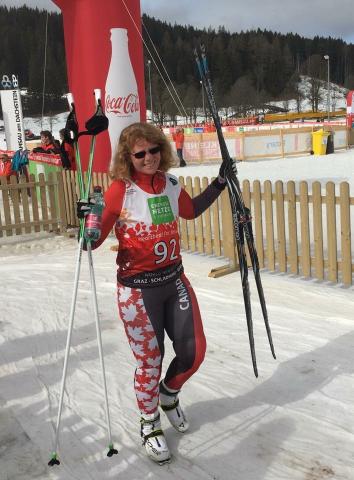 "Special Olympics has taught me how to become a better skier, how to be a member of a team, how to support my teammates, and how to keep going when things get tough," said Brock.
Elouise Stewart is another member of the Bow Valley club who will make the trek to B.C. this weekend.
The 45-year-old skier has been part of Special Olympics since 2000 and has competed in multiple sports including athletics, bowling, soccer, and her favourite cross country skiing.
"Cross country skiing is my favourite as it pushes my endurance and I get to be outside on the trail," said Elouise.
She has been working hard to be her best when she races this weekend by training throughout the year.
Elouise bikes, runs, swims and participates in many races in the summer including triathlons.
In the fall you can catch Elouise roller skiing and running.
Leading up to Provincials she skis three times a week and runs twice every week.
"My goals are to perform to the best of my abilities and to see other athletes from other participating affiliates," said Elouise.
Her experience as a two-time member of Team Canada in 2013 (Pyeongchang) and 2017 (Austria) will surely be a factor as Elouise took home 2 golds, 3 silvers, and a bronze against world-class competition.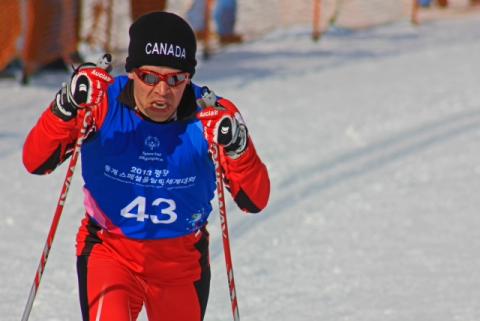 What sets Elouise apart is her sportsmanship and her advice for athletes competing at their first Provincials was to "be prepared for a lot of different activities in a short period of time [and] make sure you are well rested before coming."
Shane Stewart, who competes as a member of SOA-Bow Valley and SOA-Calgary, will join his teammates at the cross country event in B.C.
He is another experienced racer from the Bow Valley affiliate who won three gold medals at the 2009 World Winter Games in Boise, Idaho and also medalled at the World Games in Pyeongchang and Austria.
The three-time Team Canada veteran has been involved with Special Olympics for 14 years and he is excited for another chance to compete.
"My goals for this Provincial Games is try and win gold in all my races, but more importantly try my best."
Shane works with a personal trainer three times a week and is running and skiing twice a week as well.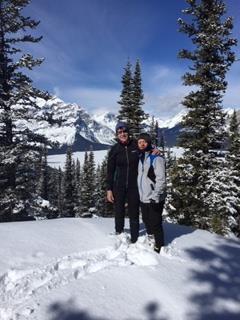 Colin Hale is a 31-year-old skier who joined Special Olympics in 2001 to play baseball, basketball, and cross country skiing.
His goal is simply to ski his best this weekend and his experience winning a gold medal as part of Team Alberta in 2016 has put him on the right track to be at his best come Saturday.
Colin trains by skiing and swimming twice a week and he even trained through the holidays with his family to make sure he would be ready for Provincials.
All of these athletes are strong advocates for inclusion and Special Olympics' worldwide goal to make inclusion a global reality.
"Special Olympics is focused on creating global inclusion and this matters a great deal to me," said Brock. "It's important to give everyone a chance to be a part of a group/team, who otherwise may not have had such an opportunity. People are all the same and want to be included."
"Inclusion is an important aspect of society as each person has abilities and we need to look at these and not at our disabilities," said Elouise. "If each person is allowed to use their strengths than everyone can participate in our society."
"My parents have always ensure that inclusion is always a part of my life," said Colin.
Refer a friend or family member today to help share our message and make inclusion second nature.