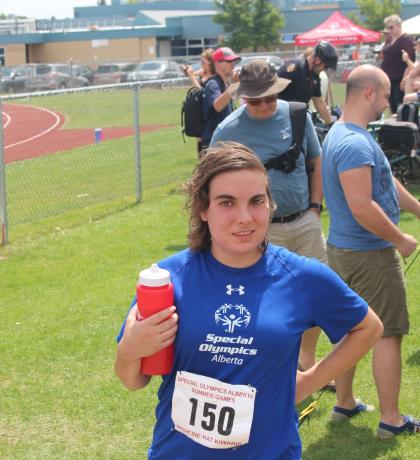 If you were looking for Brittany Sinclair during the 2017 Special Olympics Alberta Summer Games in Medicine Hat you could find her tearing up the track at athletics.
Brittany Sinclair is an athletics competitor from St. Albert who began her journey with Special Olympics nearly four years ago.
She is a dual sport athlete who competes in downhill skiing during the winter, but only started training for track and field within the past two years.
Medicine Hat was the first time Sinclair had participated in the Special Olympics Alberta Provincial Games and she competed in four athletics events including the 100M dash (F2 division), 200M dash (F1 division), long jump (F1 division), and 3kg shot put (F3 division).
Sinclair put on an inspiring performance walking away with the gold medal in the 100M dash, a silver medal in shot put, and a bronze in long jump.
Outside of competing Sinclair enjoys watching TV, walking her dog, riding her bike, and enjoys dancing stating that "my favourite song is by Bruno Mars. Uptown Funk."
"They are awesome, they are very good to the athletes all the time." – Sinclair on the St. Albert Athletics coaches.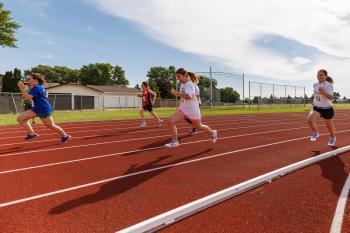 Sinclair advocates that she really enjoyed Games. "It is more fun than I expected," adding that she met a lot of nice people and made a lot of friends.
After a stellar performance in Medicine Hat, Sinclair began her training for the 2017 Canada Summer Games in Winnipeg.
She competed as a member of Team Alberta in Athletics during the first week of the competition, which commenced on July 28th and concluded on August 13th.
Sinclair along with her fellow Special Olympics Alberta teammates, Iain Cheyne and Luc Harris, competed in the 100M and 200M dash. All three raced valiantly and walked away from the event with national racing experience, which is something that will only help them as they begin preparations for their next races! For the full results from Special Olympics athletes, check out the 2017 Canada Summer Games Recap. 
The future is bright for Sinclair and we cannot wait to see her back on the track.