Record-breaking Canadian Powerlifter Jackie Barrett is making history yet again as the first-ever Special Olympics athlete inducted into Canada's Sports Hall of Fame.
The now retired Corner Brook athlete, also known as "the Newfoundland Moose," has broken not only Special Olympics records throughout his 28-year career, but also those of his able-bodied counterparts.
At the Special Olympics World Summer Games Los Angeles 2015, Barrett's 611-pound squat broke Special Olympics records, as well as the Newfoundland Men's Master-1 Super-Heavyweight record. 
On Wednesday, Canada's Sports Hall of Fame announced its Class of 2020/21, which included Barrett as one of only 11 Canadians to receive the Order of Sport award – Canada's highest sporting honour.
"What a historic moment to be the first Special Olympics athlete ever to be inducted into Canada's Sports Hall of Fame," Barrett said. "I want to thank … the Special Olympics family from Nova Scotia, Newfoundland & Labrador and across Canada for supporting me to become a successful athlete from the grassroots level all the way to four trips to the Special Olympics World Summer Games."
Barrett, who remains involved in the Special Olympics movement as a well-respected athlete mentor, was selected to the Hall of Fame from more than 260 public nominations, judged by a committee made up of sports broadcasters, writers, academics and athletes. The inductees are chosen based on their ability to lead and inspire both on and off the field of play, for their sports accomplishments and in recognition of their continuing role in building Canada through sport and the value they return to their communities.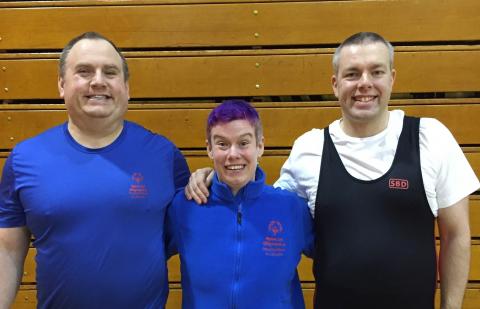 According to Special Olympics Canada CEO Sharon Bollenbach, Barrett ticks all the boxes and then some.
"At Special Olympics, we celebrate our athletes' achievements both on and off the field of play, and Jackie is a wonderful example of that," said Bollenbach. "Through his many achievements, Jackie has and continues to break down misperceptions of people with intellectual disabilities."
Special Olympics Canada's first and only induction to the Hall of Fame was in 2016 with Dr. Frank Hayden, whose research on the impact of fitness and sport on individuals with intellectual disabilities helped found Special Olympics in 1968. 
"Jackie's induction as an athlete is a milestone in Special Olympics Canada's history," said Bollenbach.  "To be recognized alongside fellow athletes is a tremendous achievement for Jackie and a big win for inclusion in sport."
According to Cheryl Bernard, President and CEO of Canada's Sports Hall of Fame, Barrett's historic induction is "a proud moment for us all."
"Jackie Barrett, a weightlifter with autism who, over the course of his career, won 15 medals — 13 of them gold — at the Special Olympics World Games is so well deserving of this for his ability to inspire on and off the field of play," she said.
While Barrett admits it's a big moment for him personally, he sees it as an even bigger win for the 49,600 "true heroes across Canada … the Special Olympics athletes themselves."
"Look how far I've come and look how far Canada's Special Olympics athletes have come," he said.
Due to the COVID-19 pandemic, the induction celebration for the Class of 2020/21 has been postponed to 2021. For more information on the inductees, visit the Canada's Sports Hall of Fame website.
Read more about Jackie Barrett: