Corner Brook Powerlifter Jackie Barrett, also known as "the Newfoundland Moose," has broken not only Special Olympics World Games records, but also those of his able-bodied counterparts.
At the 2015 Special Olympics World Summer Games in Los Angeles, Barrett's 656-pound deadlift broke Special Olympics records and his 611-pound squat broke the Newfoundland Men's Master-1 Super-Heavyweight record. He earned three gold medals and one silver in Los Angeles.
Media surrounded Barrett after his record-breaking performance.
"It was the first time I had ever seen a media scrum for a Special Olympics athlete," Special Olympics Canada CEO Sharon Bollenbach said. "It was incredible."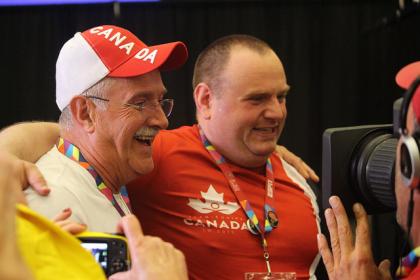 Barrett and his father, arms around each other, proudly answered questions from reporters. It was an emotional moment in honour of Barrett's mother who died October 2014 after an 18-month battle with lung cancer. 
"It felt great when I squat over 600 pounds in front of a world stage to show the world that – no matter who squats how much weight - 600 pounds truly is 600 pounds," said Barrett, who has autism. "It shows that Special Olympics and anyone with an intellectual disability are definitely catching up with the world and they're even exceeding those of their able-bodied counterparts."
It's not just Barrett's incredible achievements as an athlete that make him a Special Olympics Canada Movement Maker, a title given to those who've played a significant role in reaching this year's 50th anniversary, or who have a powerful voice in the organization's future. 
"At Special Olympics, we celebrate our athletes achieving things on and off the field of play, and Jackie is just a great example of that," said Bollenbach. "He breaks down all kinds of misperceptions of people with intellectual disabilities."
While Barrett – who joined Special Olympics as a swimmer in 1987 before making the switch to powerlifting in 1995 – has an impressive collection of medals, the sport helped him outside the gym as well. It helped him build independent living skills, like doing his own laundry and making meals. 
He studied commerce at St. Mary's University and now works in technology.
After his record-breaking lifts in 2015, Barrett officially retired from the sport – but his involvement with Special Olympics is far from over.
"When my mom was alive she was always there for the athletes. She was at almost every single Special Olympics event," said Barrett. "When she passed away, my word to her was that her hard work and dedication to Special Olympics won't be gone."
He now volunteers for his Corner Brook Special Olympics Club and mentors two powerlifters.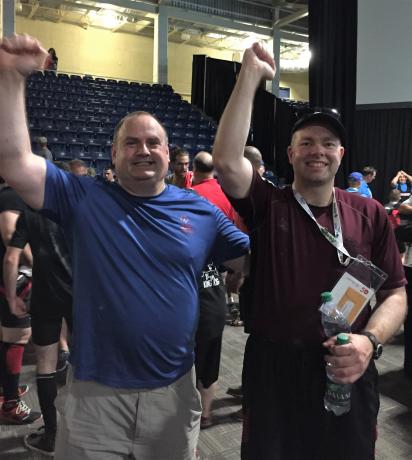 One of those athletes, Daniel Moores, brought home two gold medals and one silver from the Special Olympics Canada 2018 Summer Games in Antigonish, Nova Scotia last month.
As Barrett cheered on Moores from the crowd, people flocked to him to strike up conversations and have their photo taken with him.
"He's the celebrity athlete of Special Olympics," Bollenbach said with a smile. "He's worked so hard and now the fact that he just wants to give back? It's very inspiring."
Barrett hopes his story will inspire others to get involved.
"For all the families out there that have a child or know someone that has an intellectual disability… my best advice is for them to join Special Olympics," said Barrett. "The moment they join Special Olympics it's going to change your son or daughter's life forever - and everyone who's around them forever."
Although it's been three years since Barrett was competition-ready, he still eats well and trains regularly.
But could he still squat 611-pounds?
"It's been a while," he said. "But I'd say it's definitely doable."
To support athletes like Jackie, donate to Special Olympics Canada today.