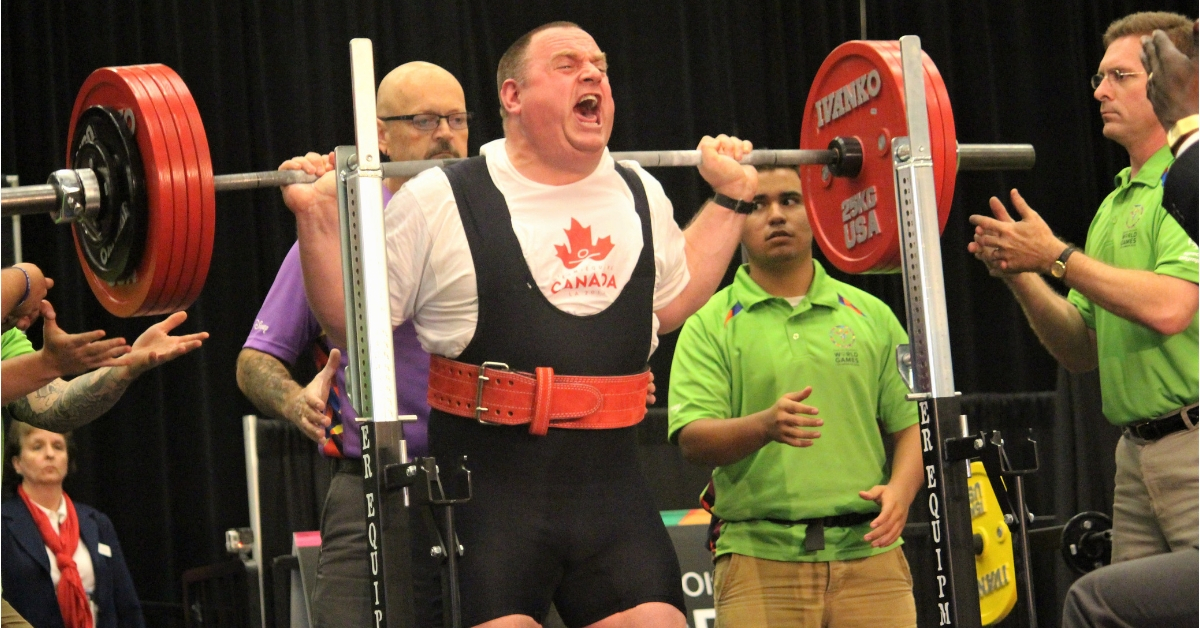 Canadian Powerlifter Jackie Barrett is making history as the first-ever Special Olympics athlete inducted in the Nova Scotia Sport Hall of Fame. 
Originally from Nova Scotia, Barrett moved to Newfoundland in 2008, where he became known as the "Newfoundland Moose" for his impressive lifts. At the 2015 Special Olympics World Summer Games in Los Angeles, his 656-pound deadlift broke Special Olympics records and his 611-pound squat broke the Newfoundland Men's Master-1 Super-Heavyweight record. 
"What an exciting honour," Barrett said of his induction into the Nova Scotia Sport Hall of Fame. 
"It's not only exciting for me, but exciting for the 47,500 heroes across Canada who don't just work hard in their sport, but work hard everyday in life," he added, referring to Special Olympics athletes across the country.
Getting into the Nova Scotia Sport Hall of Fame was no easy feat.
A panel of 36 experts – made up of current and former athletes, broadcasters, etc. – whittle down a list of 100 nominees to a mere five.
The final five must meet nine benchmarks: dominance in their sport, achievement (measured by awards and medals), consistency, longevity, skill range, "wow factor," depth and quality of competition, performance under pressure and legacy.
According to Nova Scotia Sport Hall of Fame President and CEO Bruce Rainnie, Barrett received a 10/10 in nearly all benchmarks.
"Not only did he fit those criteria, but he kind of dominated," said Rainnie. "It was near unanimous that he would enter our Hall this year."
The Hall of Fame aims to tell the story of sport in Nova Scotia – and Barrett is an integral part of that story, said Rainnie.
"You can't mention Powerlifting in Nova Scotia without thinking about Jackie Barrett," he said. "His numbers stack up to able-bodied lifters."
"He's one of the greatest athletes the province has ever produced."
Barrett, a Special Olympics Movement Maker, has also been named Special Olympics' Male Athlete of the Year in both Newfoundland and Nova Scotia, as well as across Canada and in 2015 received Special Olympics Canada's Dr. Frank Hayden Lifetime Achievement Award.
Although he retired from the sport in 2015, Barrett continues to mentor and volunteer with Special Olympics Corner Brook.
The Nova Scotia Sport Hall of Fame Induction Night takes place November 15 at the Halifax Convention Centre.