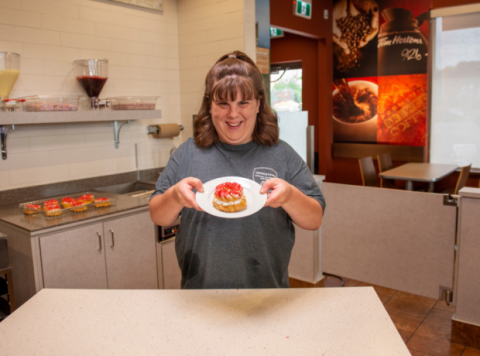 Special Olympics Canada and its National Partner Tim Hortons know how to serve up an award-winning Global Day of Inclusion.
After only two years in market, the campaign received its fourth award at the Sponsorship Marketing Awards (SMA) last week, receiving the Award of Distinction in the Cause Category for its 2019 activation.
The 2019 event also received a Gold Halo Award - North America's highest honour for corporate social initiatives and cause marketing – in the Inclusion Category, earlier this year. In the campaign's first year, it won an Award of Distinction in the Best New Initiative category at the SMAs, as well as a Silver Halo Award.
Since 2018, Special Olympics Canada has partnered with Tim Hortons to sell a limited edition Special Olympics Donut, created by an athlete, to raise funds and awareness for the movement in Canada. 
Last year, Special Olympics Ontario athlete Tori Ranson created the winning recipe – out of more than 400 athlete submissions from across the country – a cruller sliced in half, filled with whipped topping and decorated with vanilla fondant and red sprinkles.
Canadians from coast-to-coast-to-coast rallied together for inclusion on Saturday July 20, 2019 and collectively raised $150,000 for Special Olympics athletes in a single day.
While a Special Olympics Donut wasn't offered in restaurants this summer due to COVID-19, Tim Hortons and Special Olympics Canada are excited to bring it back in 2021, if safe to do so.
Thank you Tori for creating the delicious donut – and thank you to our friends at Tim Hortons for being Champions of Inclusion!
Meet Special Olympics athletes
Support Special Olympics athletes