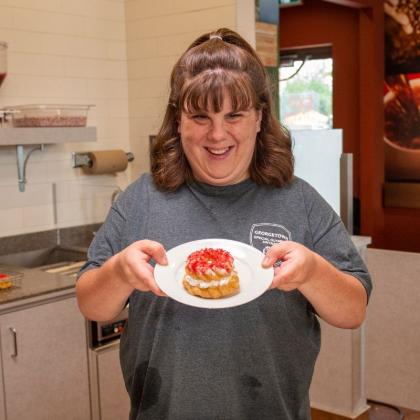 Tori Ranson, 26, is a well-known and valued member of her Georgetown, Ontario community.
The 26-year-old Special Olympics athlete can't visit her local Tim Hortons without someone stopping to say hello.
"She's so accepted," her mother Linda Ranson said.
Tori and her community are true champions of inclusion, which is why she and her mom jumped at the opportunity to create an exclusive Tim Hortons donut for Global Day of Inclusion on July 20.
Tori dreamed up a mouth-watering recipe: a cruller, filled with whipped topping through the centre, dipped in vanilla and topped with red sprinkles.
Her creation passed the Tim Hortons test and became this year's Special Olympics donut, sold at participating Tim Hortons restaurants across Canada only on Saturday
July 20. All proceeds from every donut sold will support Special Olympics athletes just like Tori.
"To me, everyday should be Day of Inclusion," said Linda. "We're very excited that she can partake in the day that showcases this."
While Tori has found her place not only in Special Olympics but also in her community, there was a time Linda worried this wouldn't be the case.
When Tori was diagnosed with a developmental delay and ADHD, Linda left the hospital with tears in her eyes.
"When she was a baby they told me she would never walk, never talk, she would never ride a bike, she would never graduate," Linda recalled. "I thought, 'You've just taken away all my dreams for my child.'"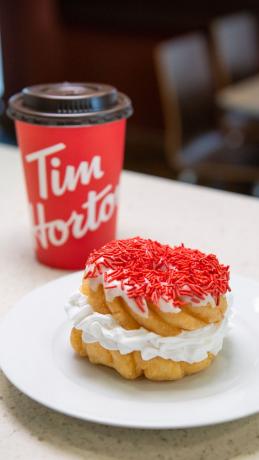 Linda refused to accept the prognosis.
While it was a struggle at first – to find a suitable daycare and school that would accommodate her needs – Tori went on to walk, talk, ride a bike and graduate high school.
At 14-years-old, she joined Special Olympics and continues to participate in athletics, rhythmic gymnastics, soccer, basketball and swimming. Last year she was named Most Valuable Player on her basketball team.
"Special Olympics is a Godsend," said Linda. "Each year she gets a little more confident."
Tori's also a mentor for her younger twin siblings, Brad and Sydney.
She inspired Sydney, a Peel Regional Police Officer, to join the Law Enforcement Torch Run, made up of thousands of members from law enforcement agencies across
Canada who fundraise for Special Olympics.
"It's a way for me to give back," said Sydney. "It's awesome because I can go to work, but also go to these LETR events and bring Tori with me."
Tori's family, friends and community #ChooseToInclude everyday. 
Join them on Saturday, July 20 by visiting your local Tim Hortons for Tori's Special Olympics donut and posting to social media with #ChooseToInclude @SpecialOCanada @TimHortons.