Today, we're celebrating moms everywhere. 
From registering their children in sports programs, to getting them to practices and cheering them on from the stands, we're grateful for Special Olympics moms across Canada.
In honour of Mother's Day, we talked to Canadian mothers about raising a child with an intellectual disability and how sport transformed their child's – and family's – life.
Every mom wants her child to be included. Make a donation on behalf of all moms today.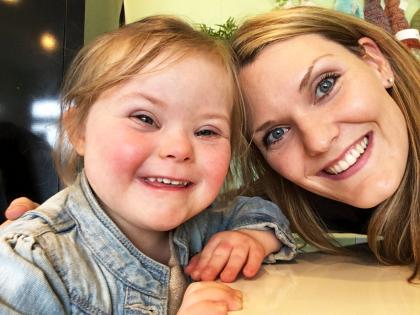 Tracey Demeulenaere
Charlottetown, PEI
•    Special Olympics PEI Active Start coach
•    Mother of Naomi, 9, Active Start junior volunteer, Kelsey, 6, Active Start athlete, Renee, 2, official cheerleader
•    Husband Mike is a Law Enforcement Torch Run member in Charlottetown
What were your expectations of motherhood?
I wanted my children to be perfectly dressed with clean hands, faces and perfectly tamed hair. I wanted to attend play dates and go grocery shopping after having showered and had time to do my hair and makeup and maintain my demanding career as a Dental Hygienist.  As it turns out, I was OUT TO LUNCH. My reality is that my hair gets washed every fourth day, many nights I fall into bed with the day's makeup still on and my house can look like a tornado went through it (on a good day).  Most days we just laugh at the state of affairs and keep moving and our kids (and us) are happier for it. My expectations of motherhood have changed a lot, but I've learned it's so much easier to just roll with the punches.    
Did you have fears about being a mom of a child with an intellectual disability? 
 
When we found out that our second child, a little girl, would be born with Down syndrome, I was overwhelmed. I was afraid of failing this little girl who was so dependent on me.  I was afraid that I wasn't cut out for this. I was (and am still) afraid of how some members of society may treat her, but it has been my experience that MOST people are kind and accommodating, and any ignorance we faced has been due to a lack of understanding, or simply not knowing what to say. 
We have found that surrounding our family with people who love and support Kelsey, people who are navigating similar situations to us, has been the key to providing the most positive and nurturing environment.  We have many close friends who are raising children with Down syndrome, and have met so many incredible families through our Special Olympics community who understand our challenges and are always available to lend an ear or provide feedback.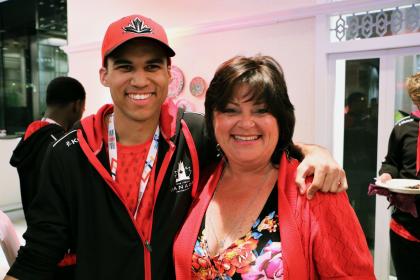 Teresa Bowen
Mississauga, Ont.
•    Mother of three
•    Youngest son, Bradley, 21, brought home bronze from the Special Olympics World Games Abu Dhabi 2019
Did you have fears about being a mom of a child with a disability?
When it was identified that Bradley had a disability, I cried and was scared for his future, all while thinking it was just me going through this. As time has gone on, through school or sports, I realized I am not alone and there are many parents that deal with much more than me in the way of disabilities.  When I think back now, I realize my fear was due to the unknown and having no one to talk to who had a child with disabilities. Sports is big in my household and I thank the high school teacher who mentioned Special Olympics to us five years ago because it was the best thing we have ever done for Brad. 
How has Special Olympics impacted you as a mother?
I could not say enough kind things about what Special Olympics has done for me as a parent.  Not only connecting and making friends with parents who can offer advice, share a laugh over your child's comments or actions and just find another family who has all the same struggles, while finding joy at the same time. I can't even express to you how it feels to see your child smiling and socializing with teammates and coaches.  Watching him carry on conversations, making jokes, making friends, communicating to make plans to go to Wonderland, movies, hockey games and WWE events – it makes you feel like, "Hey, this kid is going to be just fine."  As a Mom, Special Olympics helped me just as much as it has helped my son. We both get to feel confident and proud.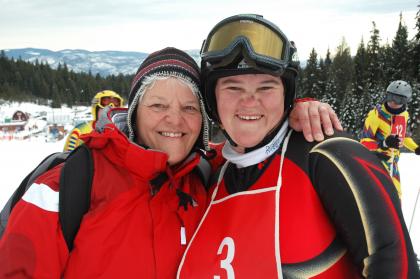 Joanne Thom
Cranbrook, B.C.
•    Special Olympics BC volunteer coach for nearly 30 years
•    Daughter Erin, 40, has competed at a number of Special Olympics World Games in alpine skiing and golf.
What were your expectations of motherhood? 
I don't know that I had any expectations, I guess maybe the dream that everything would be perfect but that, as we all know, is unrealistic.
How has Special Olympics impacted you as a mother?
Special Olympics has given my daughter a life in so many ways – it has given her acceptance, friendships and opportunities that have been unimaginable. It has expanded her horizons past our home to the world (be that in our city or the world as a whole) and in doing that has allowed our family so much more freedom, knowledge and understanding.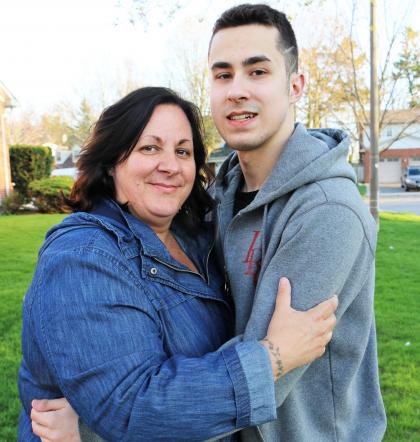 Margo Bissett
Edmonton, Alberta
•    Mother of two
•    Son Connor, 18, is a Special Olympics Alberta swimmer with autism who brought home gold from the Special Olympics World Games Abu Dhabi 2019
How has Special Olympics impacted you as a mother?
Special Olympics has given me a social circle to meet new friends and talk about our kids. I've met people all over Canada and still, to this day, keep in touch with them.
What's it like being Connor's mom? 
Being Connor's mom is just awesome, he's kind, caring, a great athlete and treats all his peers with kindness. We see him grow everyday with his speech and doing things outside the box! When I talk about him, I cry tears of joy! Seeing Connor grow into a wonderful man makes my heart full. He has the best sense of humour and a very determined attitude each day. Couldn't ask for anything more. We are truly blessed parents.
You can help more moms like Tracey, Teresa, Joanne and Margo find a welcoming and supportive community by making a donation to Special Olympics Canada today.