Special Olympics Team Canada is returning from the 2019 World Games a little heavier – with 155 medals in tow.
The team of 109 athletes, competing in 9 sports at the Special Olympics World Games in Abu Dhabi and Dubai March 14 to 21, exceeded expectations at the international competition.
"From all along I thought our team was really strong – but I didn't think we'd be that strong," said Duane Carson, head coach for the swim team, which brought home medals every day of competition. "They did fantastic – everyone had personal bests."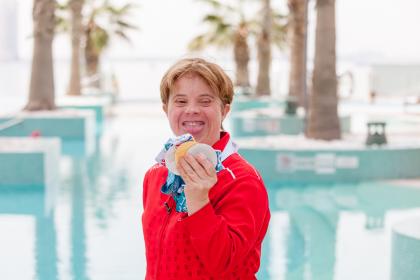 Carson credits the team's success to the hard work they put in since the first training camp in October 2018.
"They were committed, they were dedicated to training," he said.
According to head athletics coach Tom Norton, his team performed better than he could have imagined on the track at Dubai Police Stadium.
"The team was remarkable," said Norton, who also coached at the 2015 World Games. "It's the best team that I've ever had the opportunity to work with."
"Their hearts and their heads were connected."
Special Olympics Team Canada golfers also exceeded expectations at Abu Dhabi's Yas Links, bringing home seven medals.
"They played so well," said head golf coach Glenn Cundari. "I don't think as a team we could have asked for more."
In total, Special Olympics Team Canada is bringing home 90 gold medals, 37 silver and 28 bronze.
"Our SO Team Canada athletes truly glimmered in the spotlight at the highest level," said the team's chef de mission Mike Greek. "This group of individuals did the work and reaped the rewards in Abu Dhabi and Dubai while proudly carrying the torch of excellence that Canada has earned on the world stage."
The 2019 World Games marked the first time the international competition was held in the Middle East. More than 7,000 athletes from 192 countries competed at the seven-day event.
With an eight-hour-plus time difference, drastic change in climate and stiff competition, SO Team Canada truly excelled – and not only in sport, said Greek.
"They bonded as a family and as ambassadors for Canada and Special Olympics," he said. "We should all be proud."