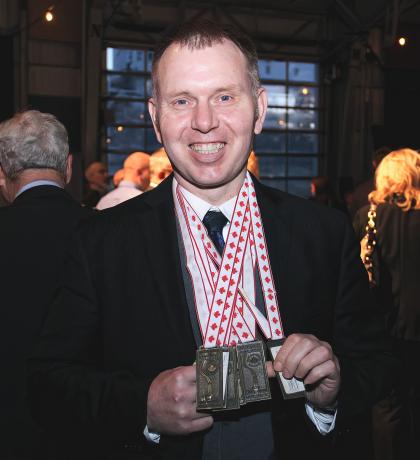 Sandy Morrison
Special Olympics Nova Scotia
In his early teen years, Sandy Morrison was struggling both in school and in his personal life.
"With my disability, school was hard and I felt really lost and unhappy. I had a group of friends that wasn't good for me either."
At the age of 15, he was diagnosed with schizophrenia.
"After my diagnosis I was on new medication and was also self-medicating with street drugs. I was at a real low. I knew I had an addiction problem, but it was so much more than that. I needed help."
After a 2-year battle with addiction and his mental health, Sandy entered rehab at 17-years-old. He went through just over 2 years of treatment and proudly left the facility sober, but had no idea what to do next. That's when a friend told him to join the Special Olympics track team that he competed with.
"I left rehab and joined Special Olympics right away. I met a whole new group of friends who didn't do drugs, who lived healthy and active lives. It was the distraction I needed, and it gave me something to look forward to. My teammates and coaches accepted me for who I was and I started to be more open with people."

"Special Olympics changed my life. It gave me a routine, and more importantly, a purpose. For the first time in my life I had goals – and look at me now, I achieved them!"
In 1995, four years after that first Special Olympics practice, Sandy competed in track at the Special Olympics World Summer Games in Hartford, Connecticut. He brought home two silver medals for Canada. Now, nearly 30 years later, he attends weekly Special Olympics practices with his local softball and floor hockey teams. On top of his sports, Sandy works three jobs and is proud to say he is in a better place with his mental health than he's ever been.