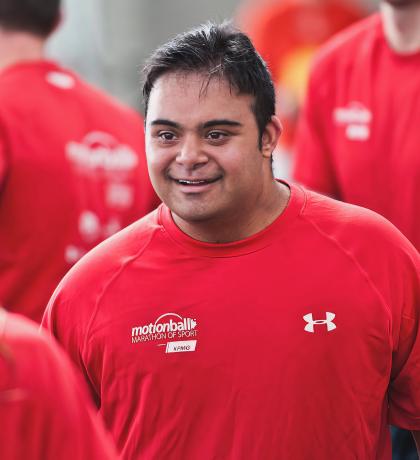 Fareed Champsi
Special Olympics Ontario
Fareed Champsi has been a Special Olympics athlete for more than 25 years. He leads a very active and social life participating in swimming, floor hockey, curling and athletics.
His mother, Nermin, shares that "Fareed has a very full life. He has made many friends and continues to make us so proud with everything he accomplishes. But when our family first found Special Olympics, we were at one of the lowest points of our lives. We had just lost my husband." While grieving and rebuilding their life without their father, a family friend told them about Special Olympics. Both brothers decided to join their local swimming program – Fareed as an athlete, and his brother, Aly, as a coach. As the two became more immersed in their sport, and their mother attended practices and swim meets with other parents, they realized they had found a new community to lean on.
"Special Olympics became a part of our healing process."
"Special Olympics became a part of our healing process," shares Nermin. "I whole heartedly believe it has helped strengthen my son's emotional well-being over the years. I hope that they continue this research and extend it to the families of each athlete as well – I'm sure you will see that the same benefits are reflected in the parents. I know the impact it's had on my life.