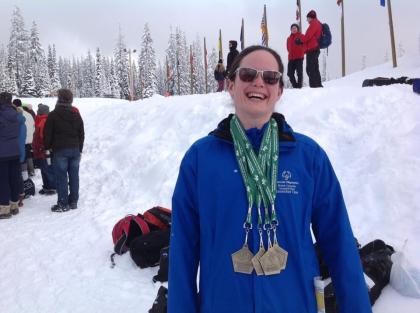 Campbell River's Ashley Adie has been a Special Olympics athlete for 16 years and a Thrifty Foods employee since December 2018.
At Special Olympics British Columbia, she participates in swimming, athletics, snowshoeing, floor hockey, softball and rhythmic gymnastics. She recently competed at the Special Olympics Canada Summer Games Antigonish 2018 and has qualified for the upcoming Special Olympics Canada Winter Games Thunder Bay 2020, where she'll compete in snowshoeing.
Before getting hired at Thrifty Foods, she was looking for work for about three months. It was difficult to find the right fit, but at Thrifty Foods she's treated like everyone else and feels like a valued member of the team.
What is your job at Thrifty Foods?
I work in the grocery department. I stock shelves, check dates, face, assist customers, respond to cashier calls.
Did you have trouble finding a job?
Yes I did. In the form of judgmental attitudes and poor fits.
To my luck however, I had just started receiving Employment Help through Campbell River District Association for Community Living. Therefore it took less time than expected.
What do you like about working at Thrifty Foods?
They treat me like any other employee and I'm held to the same high standards expected of any employee. Co-workers and managers are super friendly and supportive. Expectations are clear, concrete. Lastly, it's physical work where I'm constantly moving around. 
On June 20, Sobeys kicked off its second in-store fundraiser in support of Special Olympics across Canada. This year's goal is to raise $1 million. 
You can help transform the lives of Canadians with an intellectual disability like Ashley by making a $2 donation when you check out with your groceries at your local Sobeys, Safeway, IGA, Urban Fresh, Foodland or Thrifty Foods until July 3.