Sobeys, Safeway, Foodland, IGA, Urban Fresh and Thrifty Foods (excluding Quebec) want to raise $1 million in support of Special Olympics athletes across Canada.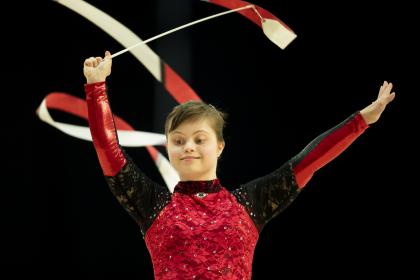 Are you up for the challenge?
From June 20 to July 3, you can help make a difference in the lives of Canadian children, youth and adults with an intellectual disability by making a mere $2 donation and/or rounding up your bill when you check out with your groceries.
Last year, customers donated more than $700,000, helping hundreds of athletes compete at Special Olympics Provincial Games, while also funding quality sports programming for 47,500 Canadians with an intellectual disability – of all ages and skill level - in communities across the country.
Help us reach our $1 million goal this year, so we can transform more lives through sport! 100 percent of all funds raised will directly benefit Special Olympics athletes. 
Make a donation, or round up your bill at the following stores:
•    Sobeys
•    Safeway
•    Foodland
•    IGA
•    Urban Fresh
•    Thrifty Foods
MARK YOUR CALENDAR: SATURDAY JUNE 22 SUMMER FOOD FAIR
On Saturday, June 22, stores across Canada will host Sobeys' second national Food Fair in partnership with Special Olympics. Visit your local store, try some summer samples, meet local athletes and have your donation to Special Olympics go TWICE as far, with Sobeys Inc. MATCHING all donations up to $150,000.
When: June 22, 11:00 a.m.-3:00 p.m.
Where: Sobeys, Urban Fresh, IGA, Foodland, Safeway and Thrifty Foods in communities (excluding Quebec) across the country.
Who: Anyone is welcome. 
What: Try summer samples and chat with athletes who'll be visiting select stores to share their medals and the impact Special Olympics has had on their lives.
Sobeys, a dedicated partner since 2016, helps Special Olympics athletes, families and coaches eat better and feel better with nutrition guides, cooking classes and fresh, accessible food. 
Discover gold medal worthy snacks inspired by Special Olympics: 
CUCUMBER ROLL 
Prep Time: 5 min          Total Time: 30 min          Makes: 12 rolls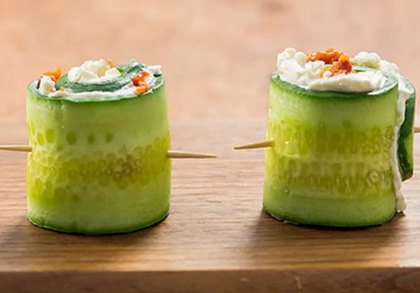 Ingredients
1  English cucumber, one end trimmed  
1/4 tsp  salt 
3/4 cup  cream cheese, softened  
1/4 cup  finely chopped sundried tomatoes  
12 toothpicks  
Directions: 
Step 1
Slice cucumber lengthwise into 10-in (25-cm) long, 1/8-in (3-mm) thick strips. Sprinkle with salt and let stand for 15 minutes. Pat dry.
Step 2
Spread about 1 tbsp (15 mL) cream cheese over each cucumber strip.
Step 3
Sprinkle with sundried tomatoes. Starting at the trimmed end, roll up. Secure each with a toothpick.
Tip
Switch it up by mixing 1 tbsp (15 mL) of your favourite herbs, such as chives, rosemary, parsley or thyme into the cream cheese.
NUT BUTTER BUDDIES 
Prep Time: 10 min          Total Time: 1h 30min          Chill Time: 1h          Makes: 30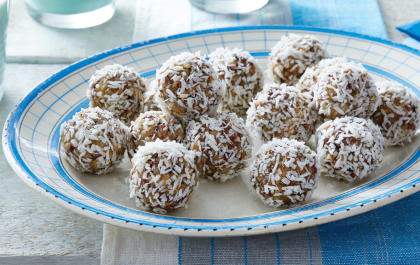 Ingredients
1 cup  finely chopped hazelnuts  
1/2 cup  sunflower seeds  
1/3 cup  flax seeds  
1/3 cup  hemp seeds 
1/3 cup  sesame seeds  
1/2 cup  peanut butter (or other seed or nut butter) 
1/4 cup  maple syrup  
1/2 tsp  vanilla extract  
pinch of salt  
1 cup  shredded unsweetened coconut
Directions
Step 1
Line large baking sheet with parchment paper. In large bowl, mix together hazelnuts, sunflower seeds, flax seeds, hemp seeds, sesame seeds. Add peanut butter, maple syrup, vanilla and salt. Mix until blended. In a separate small bowl, pour in the shredded coconut.
Step 2
Roll the seed mixture into thirty 1-in. (2.5-cm) diameter balls; toss in coconut to coat. Place on a prepared baking sheet. Chill 1 hr., or until firm. Store refrigerated in an airtight container up to 3 days or freeze for up to 1 month.
Tip
If mixture is too sticky, wet hands lightly before rolling into balls.
Try adding chopped dried fruits, such as apricots, cherries and plums.