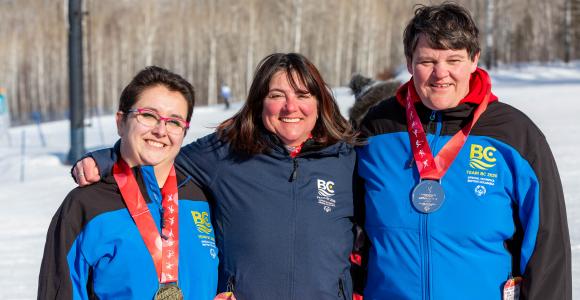 After 30 years as a certified dental assistant, British Columbia's Misty Pagliaro took "the big leap" and changed her career entirely, so she could have a greater impact on those with an intellectual disability.
Now an Inclusion Counsellor with Cranbrook Society for Community Living – which provides support and services to those with diverse abilities – Pagliaro credits the move to Special Olympics BC, where she's been a volunteer coach for golf, alpine skiing, bocce and curling in Kimberley/Cranbrook for the past 10 years.
"My new job came about last year, because of Special Olympics, because of my love for working with the individuals so much, so I basically decided to do it fulltime," she said. "It is such fulfilling and rewarding work - I just couldn't be without it."
Pagliaro first got involved with Special Olympics by chance. While volunteering for her local Rotary Club, she met someone who wanted to launch Special Olympics programs in the community. An experienced ski instructor, it piqued her interest and soon enough she was on the board as Program Director as well as coaching.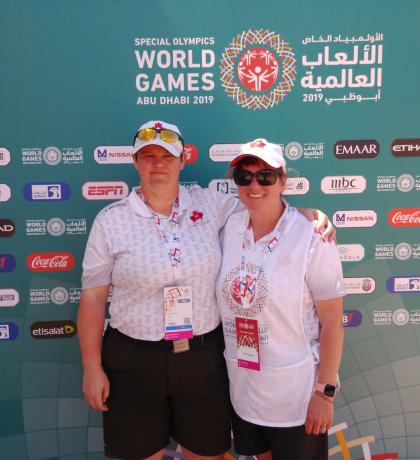 "It's the most rewarding volunteer position that I've ever had," said Pagliaro. "You get back so much more – the love and respect the athletes give you and they truly appreciate everything you do for them. They're genuinely happy to see you and they want to succeed."
When programs were suspended due to COVID-19, it was difficult – both for the athletes and Pagliaro.
"It's been really difficult, because we are such social creatures," she said. "I just absolutely love being around the athletes and they love being around each other."
"Having that taken away … it's been really hard."
She didn't want athletes to "go backwards" without regular training, so she kept in touch over social media and lent a hand wherever she could, like helping one athlete find an exercise bike for home.
As lockdown continued, she "couldn't handle not doing anything," so she started Facebook Live golf practices, covering a range of topics from gripping the club to how to make an at-home putting target.
"It was just so wonderful to interact with them every week and know they were looking forward to seeing me – even if it was just on Facebook for 10 or 15 minutes," she said.
As Special Olympics BC slowly begins its safe return to sport, Pagliaro has also stepped up to help lead the pilot project in the golf program.
"It feels great to be back on the course," she said. "To help the athletes succeed in their goals is the most special feeling ever."
"I would highly recommend to anyone to volunteer with Special Olympics."