For National Volunteer Week, April 19 to 25, we are thanking our 22,000 volunteers across Canada by sharing some of their stories. Their unwavering support helps Special Olympics athletes and their families build the confidence, determination and strength to take on any challenge in sport – and in life.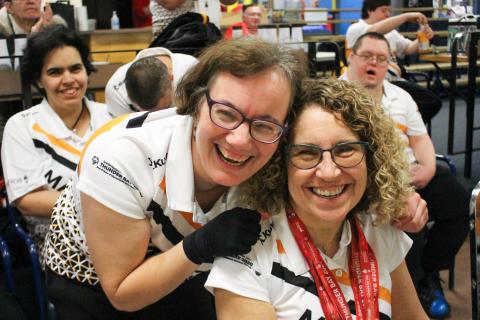 MEET SPECIAL OLYMPICS MANITOBA'S SUSAN ALTOMARE
Winnipeg's Susan Altomare began volunteering with Special Olympics Manitoba 20 years ago. Originally an event volunteer, she eventually took on an assistant coach position with the Coronation Comets 5-Pin bowling club and has been a wonderful addition to the club ever since.  She's always willing to step up and help out, from volunteering at the Winnipeg Wine Festival, to sport competitions, and going above and beyond at her weekly program, Susan always has a bright smile on her face and a positive attitude that shines through.

1.    When and why did you get involved with Special Olympics? 
More than 20 years ago, I started volunteering for various Special Olympics events such as track meets, bowling tournaments, Winnipeg Wine and Beer Festival etc. with my mom. We both were drawn to the organization because a cousin with Down syndrome and his mother were actively involved with Special Olympics.
I enjoyed volunteering so much, when I retired three years ago I decided to commit more time to Special Olympics. I became a 5-Pin Bowling coach at Coronation Lanes, Winnipeg and recently attended the Special Olympics Canada Winter Games Thunder Bay 2020 as assistant coach to the Manitoba 5-Pin Bowling Team.
2.    What is your favourite Special Olympics moment/memory? 
One of my favourite Special Olympics moments was volunteering at an outdoor track meet in Selkirk, Manitoba.
My responsibility was to time runners as they crossed the finish line.
An older female athlete was part of a heat of five running the 400-metre race. Four of the runners made it around the track and crossed the finish line fairly easily, but the older athlete was visibly struggling. One of the four ladies that had already finished the race, ran back to help the struggling athlete, holding her hand until she successfully crossed the finish line.
To me, this displayed the ultimate meaning of sportsmanship.
There wasn't a dry eye in the crowd, including me.
3.    Why should other people get involved with Special Olympics?
Volunteering for Special Olympics is such a positive, heartwarming experience.
A volunteer will experience camaraderie with the athletes, other coaches, volunteers and parents; joy and a sense of accomplishment.
You can expect to receive sincere appreciation from the athletes and their parents.
You will understand the true meaning of sportsmanship.
4.    How has Special Olympics changed your life? 
From my volunteer and coaching experience, I have become more empathetic, patient and understanding.
I am better at problem solving and quick thinking.
It has clarified my vision of what being a Special Olympics athlete is and provided me the sheer joy of sharing their accomplishments.
5.    Why do you volunteer? 
I volunteer because I feel I get as much out of the experience as the athletes do.