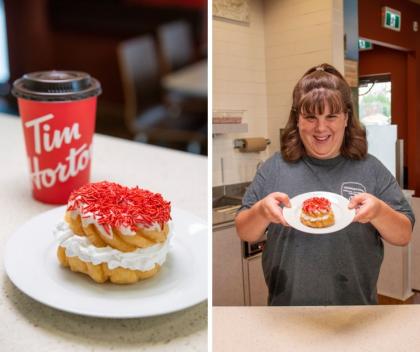 Meet 26-year-old Tori Ranson, a longtime Special Olympics athlete and this year's creator of the Special Olympics donut sold at participating Tim Hortons across Canada for Global Day of Inclusion.
Proceeds from every Special Olympics donut sold on Saturday, July 20 will support Special Olympics athletes like Tori across the country.
Find out more about Tori and her delicious creation:
How long have you been involved with Special Olympics?
More than 12 years.
What sports do you participate in?
Rhythmic gymnastics, soccer, swimming, athletics and basketball.
What does Special Olympics and inclusion mean to you?
I love the friendships I have found over the years through Special Olympics.  I have a lot of great buddies. I also love keeping busy and doing sports.  Special Olympics has been a huge part of my life for over 12 years!! Thank you.
What donut base, filling, dip and toppings did you choose for the Special Olympics donut?
Cruller, vanilla dip, whipped topping and red sprinkles.
Why did you choose these ingredients for your donut?
They are all my favourites. Red sprinkles for Canada!
On Saturday July 20, visit your local Tim Hortons with friends and family for a Special Olympics donut! Post a picture with your donut to social media with #ChooseToInclude @SpecialOCanada @TimHortons. Proceeds from every donut sold support Special Olympics athletes across Canada.