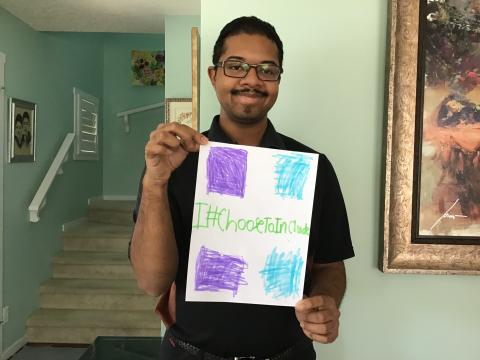 Special Olympics Calgary athlete Alex Arthur has been a Tim Hortons employee for nearly five years – and he's felt like a valued team member since Day One.
"I have lots of friends there," said Alex, 28, who works as a Lobby Attendant keeping the restaurant clean for guests. "I am part of the team."
The team also recognizes the importance of his day programs and Special Olympics activities and work hard to accommodate his schedule when needed – like when bocce practice interfered with his Saturday shift, so they gave him weekday hours instead.
There are countless Tim Hortons restaurants across Canada that include Special Olympics athletes and Canadians with an intellectual disability as part of their team.
A National Partner of Special Olympics Canada since 2015, Tim Hortons is a true Champion of Inclusion.
Restaurant Owners in Olds, Alberta, Todd and Quinn Jacobs, are prime examples.
Not only do the brothers employ a local athlete, they regularly welcome them into the restaurant to promote their programs.
"It's just a great time … they always wear their medals into the store, it's just so cool to see," said Todd. "Getting them to make donuts with us and listening to their stories … it gives us a different perspective."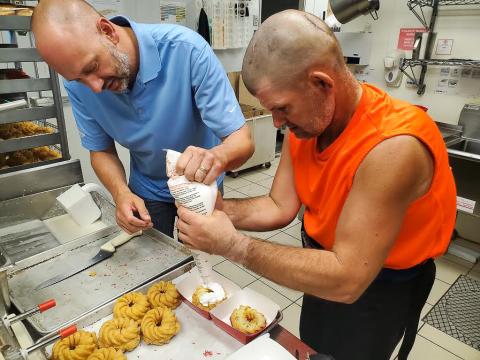 Based in a small town, the brothers believe in the power of community spirit and getting everyone involved.
"In our restaurant, we've got people from every walk of life and we try not to view anybody any different," said Quinn. "It makes us more successful and makes our team stronger."
With a longstanding culture of inclusion, it was a natural fit when Tim Hortons became the official Partner of Global Day of Inclusion in 2018, which marked Special Olympics 50th anniversary.
To celebrate the milestone, Tim Hortons tasked Special Olympics athletes across the country with creating their own Special Olympics Donut recipe. Out of hundreds of submissions, one athlete recipe was chosen and the signature donut was sold in restaurants on the first-ever Day of Inclusion July 21, 2018. All proceeds supported Special Olympics programs in Canada.
The initiative was so successful – raising more than $120,000 in a single day – it continued the following year, raising even more funds and awareness. It also won a Halo Award, North America's highest honour for corporate social initiatives and cause marketing, two years in a row.
"The message and goal truly is to grow the movement and share the values of inclusivity, community and togetherness year-round – values that both Special Olympics and Tim Hortons jointly share," said Chris Wakefield, Lead, Regional Marketing & Sponsorships, Canada for Tim Hortons.
While this year's Special Olympics Donut is postponed due to the Covid-19 pandemic, Tim Hortons is still committed to the Day of Inclusion and is looking to secure a date to sell the signature donut in early 2021. Click here to learn how you can participate in this year's Global Week of Inclusion from home.
From hiring athletes, to supporting grassroots programs and majors events, Tim Hortons always Chooses To Include. Thank you, Tim Hortons, for your unwavering support.