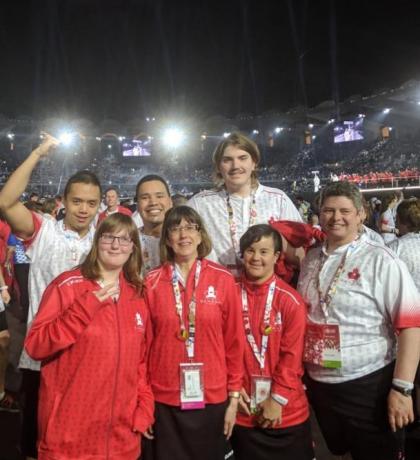 Special Olympics Saskatchewan is proud and very pleased that six athletes and one coach have been selected to be a part of 2019 Team Canada at the Special Olympics World Summer Games, Abu Dhabi.
The Team Canada Roster includes Richard Dolan and Dawn Reiben competing in 10 pin bowling, Addison Czaya-Woolly competing in athletics and Colby Kosteniuk, Michael Qing, and Tianna Zimmerman competing in swimming. This is the largest contingent of individual Saskatchewan athletes selected to Team Canada.
Each one of these athletes has worked incredibly hard at their sport to get to the level they are at today. As they continue to train, improve scores, times and techniques, we wish them all the best of luck!
Returning to Team Canada as an Associate Swim Coach is Jackie Powell from Swift Current. This will be Jackie's 4th time representing Team Canada at a Special Olympics World Summer Games.
Click below for more information and the full Team Canada Roster!