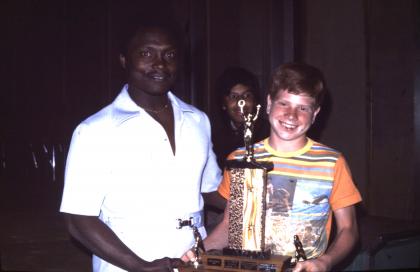 Special Olympics Saskatchewan has been working with children, youth and adults with an intellectual disability for over fifty years. Within this time, it has grown well beyond being an event to become a year-round national movement. Our vision is to continue to improve and expand the quality, opportunity and accessibility of sport to individuals with an intellectual disability. Along with this, we continue to strive to improve upon both the awareness and support of the Province of Saskatchewan.
For people with intellectual disability in Saskatchewan, Special Olympics is often the only place where they have an opportunity to develop a strong sense of self. Special Olympics Saskatchewan optimizes the benefits of a healthy and active lifestyle through sport to improve the well being of individuals with an intellectual disability. Part of our mission is to educate people about the dignity and gifts of all people.
The confidence and skills our athletes gain translate into other areas of life as well, many Special Olympics Saskatchewan athletes lead busy lives, from fulfilling work obligations, volunteering, hanging out with friends to playing in a band to dedicating time to their beloved sport. Special Olympics teaches us to recognize our similarities instead of our differences.
We all value leadership, courage, unity, perseverance, and sportsmanship. This is a force that brings people together and allows them to connect on an entirely new level. People from all walks of life – families, local leaders, businesses, law enforcement, celebrities, government officials, and others – work together to make the world a better place; one which is more compassionate, respectful, accepting, and tolerant.
Special Olympics Saskatchewan Provincial Records
With such a rich history of competition and outstanding athletic achievement, Special Olympics Saskatchewan wanted to honour many of those competitors by documenting the provincial records held in many of our sports.  Using specific criteria for setting a competition standard, we have searched the archives and found all of the best of the best, provincial records.  Please take some time to explore these records and be amazed at the athletic accomplishments of our Special Olympics athletes.
Summer Sport Provincial Records
Winter Sport Provincial Records
A Look Back Through Time - Special Olympics Saskatchewan Archive