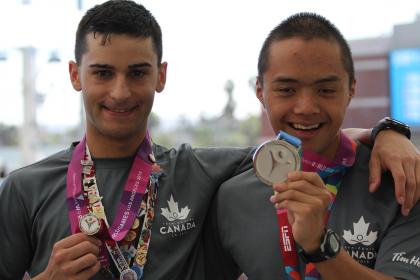 The World Games are flagship events for the Special Olympics movement. They take place every two years and alternate between summer and winter Games. The Games can be the world's largest sporting event of the year. Thousands of athletes, coaches, volunteers and supporters attend to see and cheer the skills and accomplishments of people with an intellectual disability.
The World Games feature more than a week of grueling, yet inspiring, competition among thousands of athletes. Through media coverage of the Games, the stories and achievement of our athletes are seen by millions of people worldwide.
Joining Team Canada from Saskatchewan is Darlene Macquarrie (Mission Staff), Chelsea Fidler (Communications), Terry Livingstone (Speed Skating), Ron Brandt (Snowshoeing), and the Team Sask Floor Hockey Team  and Coaching Staff - Ryan Unruh. Abigail Frasz, Sheldon Dean, Mike Snell, Dean Boechler, Kyle Couture, Lee Salzl, Matthew Haddad, Shane Haddad, Tyler Haddad, Zane Lauritsen, Chris Anderson, Kyrren Dean, and Robbie Bomboir.
Also attending the games as a Floor Hockey Official is Darren Whitehead from Special Olympics Prince Albert.
Learn more about the 2017 Special Olympics World Winter Games in Austria at our Team Canada website.