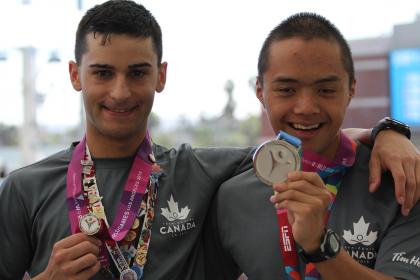 The World Games are flagship events for the Special Olympics movement. They take place every two years and alternate between summer and winter Games. The Games can be the world's largest sporting event of the year. Thousands of athletes, coaches, volunteers and supporters attend to see and cheer the skills and accomplishments of people with an intellectual disability.
The World Games feature more than a week of grueling, yet inspiring, competition among thousands of athletes. Through media coverage of the Games, the stories and achievement of our athletes are seen by millions of people worldwide.
Special Olympics Games are an important part of our organization's history, identity, and athlete journey. Our team will be working hard to rebuild our Games pathway so that athletes and District teams can once again reach towards their competitive goals.
Special Olympics Game Frequently Asked Questions
When will the next Special Olympics Saskatchewan Games be?
The 2021 Special Olympics Saskatchewan Summer Games that were being planned in Prince Albert, were cancelled due to the Covid-19 pandemic. At this time, Special Olympics Saskatchewan is still monitoring the ability to host our next multi-sport event and will announce a plan to re-establish the Games when it is possible to do so safely and economically.
When are the next Special Olympics Canada Games?
Due to the impact of the Covid-19 pandemic, Special Olympics Canada, in partnership with Special Olympics Chapters across the country, made the decision to cancel the 2022 Special Olympics Canada Summer Games that were scheduled to be hosted in Medicine Hat, Alberta. It is currently unknown when the next National Games will be held.
When are the next Special Olympics World Games?
Athletes from across Canada proudly represented their provinces and territories and competed well at the 2020 Special Olympics Canada Winter Games in Thunder Bay, ON. During those games, athletes from across Canada qualified for the 2022 Special Olympics World Winter Games in Kazan, Russia. Announcements regarding the Team Canada Training Squad will be made at a future date.
What factors were considered in cancelling Games?
The impact the global pandemic had on disruption of qualifying pathways, public safety, and mobilizing planning and fundraising.

Ensuring the safety and well-being of all athletes and volunteers.

Focusing attention on local and grassroots programs as the building blocks of all of our sport training and competition preparation.
Without Games, what is next for Special Olympics athletes?
We know that to many athletes, the competition pathway is an important part of your journey and an inspiring part of our movement. The good news is that Special Olympics is more than an event. As we turn our attention to the Return to Sport plan, we can begin to build toward return to competition over time. The cool part about rebuilding is that we can make it even better than before and no matter what the next few years bring, there will be many opportunities for sport events that demonstrate our values of inclusion, diversity, empowerment, respect, and excellence.
2019 World Games