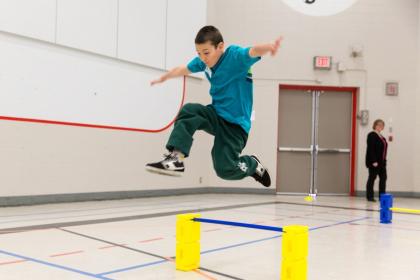 Over 50 schools from 15 divisions in Saskatchewan are using the Active Start and/or FUNdamentals programs. Join the club!
Special Olympics Active Start and FUNdamentals school programs are the first of their kind in Canada. They provide specific training and educational opportunities for children/youth with a developmental/intellectual disability and their classmates, many of whom do not have any other avenues for structured physical fitness.
The programs are built on the rationale that, when children with a developmental/intellectual disability receive early instruction in basic motor skills and developmentally appropriate play, there is an excellent opportunity for improvement in their physical, social, and cognitive abilities.
These programs provide the necessary tools for teachers to foster their Special Education Students' Physical Literacy Goals.
Active Start targets children with intellectual disabilities ages 2 to 6. Through the program, children learn basic motor skills such as walking, running, jumping, and throwing in a fun and safe environment.
FUNdamentals is a continuation of the Active Start Program for athletes ages 7 to 12. This program transitions from basic movement skills to basic sports skills in an atmosphere of fun and meaningful interaction.
The programs are available to any classroom that has students with intensive needs. Start one in your school and receive:
Curriculum aligned programming, lessons, and manuals
Special Olympics Saskatchewan support
An equipment kit from Flaghouse (valued at over $500.00) if available
If you are interested in receiving these programs for your classroom, connect with us today!
Active Start & FUNdamentals School Programs Registration Form
 
Try It! Camps
If you are interested in these programs, you can schedule a Try It! Camp for your community, classroom, school and/or school division.  The Try It! Camp covers all the aspects of both programs, Active Start and FUNdamentals, in an hour of activity, learning, and fun.  Each participant will leave the camp with a certificate of completion that also works as a benchmark of their abilities at that time – and it's FREE!  Book it for your special days, PLC days, institute or convention days or just a day when you want to see if these programs can work with your students.
Give it a go!  
If you are interested in hosting a Try It! Camp for your classroom, connect with us!