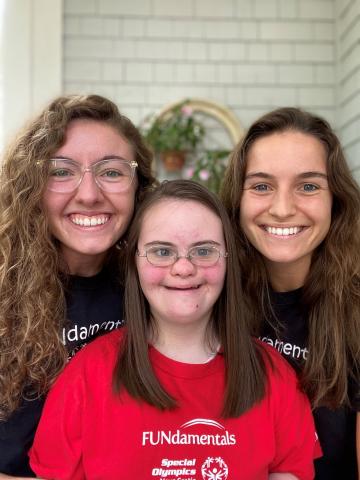 Nova Scotia's MacNeil sisters have had the ideal Friday night since they were teenagers: coaching Special Olympics FUNdamentals.
Morgan, 23 and Abbie, 25, have volunteered with the Enfield program for children and youth with an intellectual disability for the past seven years. In 2018, they officially took over as Program Leaders.
"It's just our preferred way to have fun and get involved in the community," said Morgan, who also works fulltime as a nurse in Truro. "It's the perfect opportunity for us to combine our love for the special needs population with physical activity."
They credit their passion for the cause to their 17-year-old sister Caelan, who has Down syndrome and participates in their FUNdamentals program.
"Having a younger sister with Down syndrome growing up has always made us really into being inclusive with the special needs population and advocating for them, so that's just always been embedded in our personalities and way of life," said Morgan. "It's pretty awesome. We love spending time with her at home and having her have as an athlete."
The sisters have grown the Enfield program to 18 athletes and 20 volunteers, which means every young athlete gets to work one-on-one with a "buddy."
"We have athletes running through the door every week so excited to see their buddy," said Abbie, who's completing her final semester at Dalhousie University's School of Nursing. "There's just so much joy in the gym – you can feel it."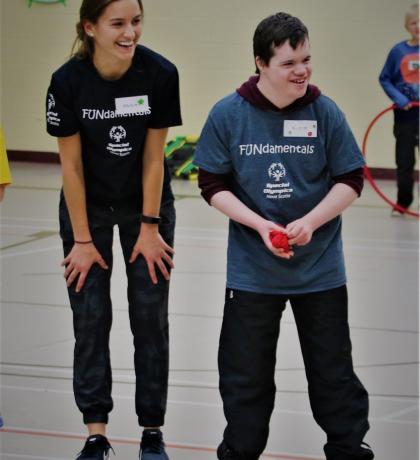 For Abbie, her favourite part of leading FUNdamentals is hearing the parents talk about how much their kids love the program and constantly ask "Is it Special Olympics night?"
For Morgan, she loves watching the close-knit group grow.
"We've been with the same group of athletes over the past two years and one of my favourite parts is watching how much some of them grow - both physically as well as skillset and socially," she said. "It's a big deal for some of them to start talking to their volunteer, for others it's more about physical accomplishments."
With the size of their program, the sisters are able to individualize the program and set specific goals for each athlete.
"It's so exciting to watch them start accomplishing their own goals," said Morgan.
As Program Leaders, Abbie and Morgan plan the overall programming and dedicate each month to a single sport. Once the volunteers arrive on Friday night, they take the lead.
"You can tell the volunteers genuinely enjoy coming every week – we could not do it without them," said Morgan.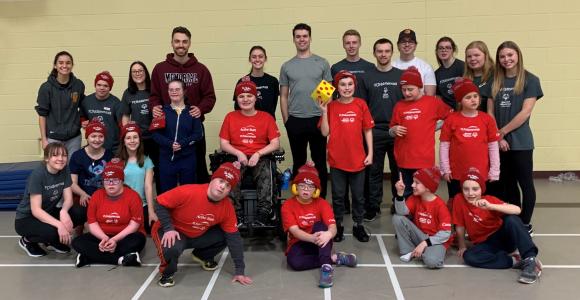 When COVID-19 hit in March, the program had to stop abruptly, meaning they missed their regular end of season celebration and awards.
"It's been pretty difficult – we miss seeing our athletes every Friday night," said Morgan.
The sisters, alongside their team of volunteers, have been doing their best to stay connected via social media.
Morgan and Abbie posted videos of Caelan working out and running through obstacle courses at home, to inspire athletes to get outside and be active.
With programming still suspended in some areas, Abbie and Morgan plan to adapt FUNdamentals by providing online videos, tutorials and weekly challenges, to ensure their athletes continue to grow and achieve their goals.
Follow the Enfield, Nova Scotia FUNdamentals program on Instagram here.