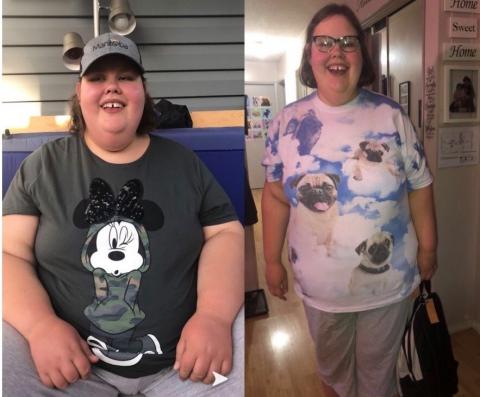 Two years ago, Special Olympics Manitoba five-pin bowler Christine Hoffman weighed nearly 400-pounds and struggled with high cholesterol at just 26-years-old.
When she qualified for the Special Olympics Canada 2018 Bowling Championships in Prince Edward Island, she and her coach decided to make some much-needed lifestyle changes.
She moved in with her caregiver Francine Funk, who helped her with portion control and a low carb/high protein diet, while cutting out fast food.
"I like wraps … I like vegetables," Christine, now 28-years-old, said from the home she shares with Funk in Winnipeg. "(I feel) good."
Over the past two years, she and Funk have maintained that healthy lifestyle, which lead to Christine qualifying for her second National Games.
In preparation for the Special Olympics Canada Winter Games Thunder Bay 2020, Christine has also increased her exercise to bowling twice a week, track and field twice a week and CrossFit on the weekend – on top of regular cycling and swimming. She's now down to 268-pounds and went from a size 5XL to a 2XL.
"She has come a long way," said Funk. "I am proud."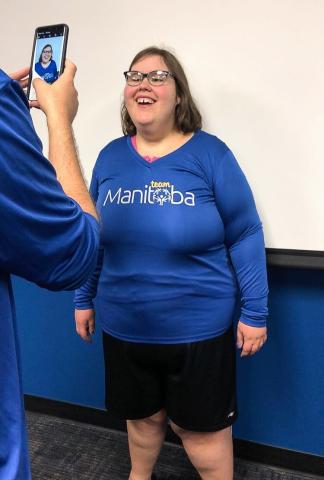 Special Olympics Team Manitoba five-pin bowling coach Mélissa Perron has been Christine's home coach in Winnipeg for the past five years.
While she's witnessed the impressive physical changes in Christine, she's also noticed significant growth emotionally.
"One thing that I've noticed is her confidence has grown tremendously," said Perron. "She's been inspiring other athletes."
Not only does her transformation serve as inspiration, but she also shares the knowledge she's learned with teammates. 
Qualifying for Special Olympics Team Manitoba was only the "stepping stone" for Christine's health transformation – it's now a lifestyle she plans to continue.
"She's learned a lot in terms of the choices that she can make," said Perron.
And, of course, it helps that she's very competitive, added Funk.
"If I tell her, 'I'm going to go on the treadmill for half an hour,' she'll say to me, 'I'm going to go for 45-minutes!'" Funk said with a laugh.
When asked about her goals for the upcoming Winter Games, Christine gave a fitting response: "I want to win!"
TO SUPPORT ATHLETES LIKE CHRISTINE, DONATE TO SPECIAL OLYMPICS CANADA TODAY.