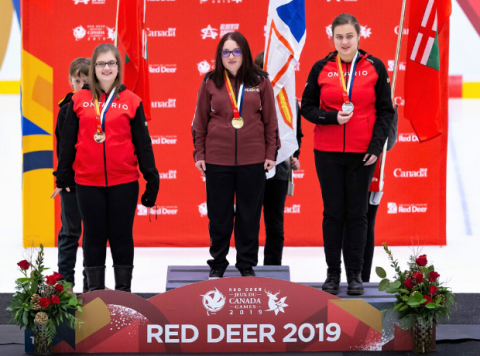 Athlete: MELANIE TAYLOR    
FROM: ST. JOHN'S, NEWFOUNDLAND
ROCK THE RINK PERFORMANCE: November 23 at Mile One Centre in St John's, Newfoundland
1.    How long have you been figure skating? 
I started Skating when I was five-years-old. When I moved back to Newfoundland in 2014 I began skating with Conception Bay South Club and that was when I really started to take skating seriously.
2.    What other sports do you play? 
I spend a lot of time skating (four to five days a week), so I do not have time for much more, but I do love swimming and horseback riding.
3.    How long have you been involved with Special Olympics? 
I began Skating with Special Olympics in 2014 at Conception Bay South Figure Skating Club.
 
4.    What is the biggest figure skating competition/performance you've done to date? 
I have competed in many competitions and performances since I started skating with Special Olympics. They are all special, but the one I am most excited and proud of was last year's Canada Games in Red Deer, Alberta where I won gold. All of the athletes at the competition from Newfoundland & Labrador were there to cheer me on and watch me skate. It was an amazing moment I will never forget. I even got to carry the Newfoundland & Labrador flag out at Closing Ceremonies. My mom, dad and sister Chelsea were all there also with me in Red Deer and that was really special.
 
5.    What was your reaction when you found out you'd be performing at Rock the Rink? 
I was so excited. This is a dream come true to be able to meet and skate with all of the people I watch on TV and inspire me to work hard and have fun skating.
6.    How are you preparing for this performance? 
I am preparing now for competitions in Newfoundland that are coming up so I am on the ice four days a week. As well I have been selected to represent Newfoundland at Special Olympics Canada Winter Games in Thunder Bay, Ontario in February 2020, so I have new music and a new dress and I am very excited to be able to show my new routine in front of everyone at Rock the Rink.
7.    Who is your favourite figure skater(s)? 
That's easy....Kaetlyn Osmond. I have seen her perform in several competitions, as well as she has coached me sometimes when she visits our club. That is exciting. I also love watching Tessa and Scott. I have never met them and really excited to meet them. Patrick Chan coached me once also at our rink. He is really nice and excited to see him again also. I like a lot of skaters, but Kaetlyn is my favourite.
8.    What do you love about skating? 
There is so much I love about skating. I get to meet new friends and my list keeps growing, I get to travel to competitions, I get to help teach younger new skaters how to skate. I get to have fun with my coaches, I get to challenge myself by adding more elements to my routine and I am really proud to be able to represent Special Olympics Newfoundland at events. It is hard for me to say how much skating with Special Olympics has changed my life. I love it...
9.    Tell me about the routine you'll be performing at Rock the Rink?
I have new music and routine this year. I am practising hard this year as we put new elements in my routine. I am skating to music by the Ennis Sisters who are local Newfoundland & Labrador artists and I love them. I'm moving up this year from Level 2 to Level 3 so I have more elements with jumps and spins that I am having fun learning.
10.    What do you like about Special Olympics? How has it changed your life? 
Special Olympics has changed my life. Before moving back to Newfoundland in 2014, I skated, but really had no one to teach me. I really love skating and with the help of my coaches Kayla Kennedy, Suzannah Healy, Emily Thorne and the entire CBS skating club they have given me the confidence to go out and do my best, but most of all have fun. Thanks to Special Olympics, these past five years have been amazing and I have had the privilege to travel and take part in many competitions and meet so many other Special Olympics skaters that are now my life long friends.
11.    What would you like to say to Tessa Virtue and Scott Moir for inviting you to perform alongside them? 
I would like to say Thank You. We all (figure skaters) watch you on TV and follow you on social media with hopes that one day we can see you perform in person or even be lucky enough to meet you. To have an opportunity to skate with you and the other skaters is beyond my wildest dreams. I am so happy that they are bringing attention to Special Olympics skaters. I would like to say this is a dream come true but I would have never thought I would be a part of something like this so I would never dream that high. It is truly special. Thank You.
12.    After Rock the Rink, what's next? 
I have several Provincial Competitions coming up, which I am excited to meet everyone again but my big thing this season is I am representing Special Olympics Newfoundland & Labrador in Thunder Bay, Ontario February, 2020. I have a new program with new music, so I am working hard, but I am having fun.
To support athletes like Melanie text SPORT to 20222 to donate $10 to Special Olympics Canada.