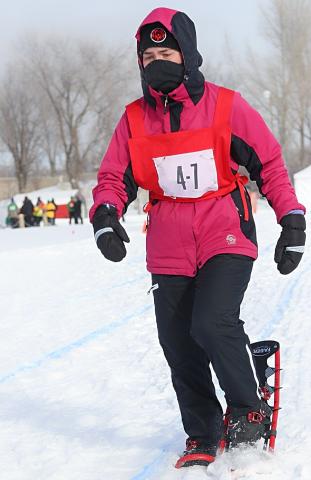 Saskatoon's Madalyn Gramiak has spent many years cheering for her older sister on the soccer field.
Now that she's a Special Olympics Saskatchewan athlete, it's Madalyn's turn to be the "superstar" in the family.
Madalyn joined Special Olympics three years ago and has already qualified for her first National Games: She'll be competing in snowshoeing at the upcoming Special Olympics Canada Winter Games Thunder Bay 2020. At 17-years-old, she's the youngest member of Special Olympics Team Saskatchewan.
"I'm really happy for Madalyn," her mother Alicia said. "She's always been the one that's dragged to places to watch her sister, so now it's her who's the superstar that we get to go watch."
Along with snowshoeing, Madalyn has also participated in swimming, softball and athletics, which lead her to compete in multiple track events, from long jump to shotput and the mixed relay, at the Western Canada Summer Games in Swift Current last summer.
In just three short years, Alicia has watched Madalyn's confidence soar as she excelled in sport.
"It's nice for her to be on a more level playing field," said Alicia. "It's helped her confidence so much – and she's also become a bit more competitive."
Special Olympics Team Saskatchewan head snowshoe coach Stephen Neiszner expects Madalyn to perform "very well" at her first National Games.
"She's a really hard worker and she wants to do her best," he said.
Madalyn has been staying on top of her strict training schedule, which includes a group workout on Sundays, a weekly yoga session, regular sessions at the gym, on top of regular snowshoeing outdoors (when it's not -50C in Saskatoon!)
"She's been really good with her training, she's been engaged," said Neiszner.
After winning one gold and two silver at the Special Olympics Saskatchewan Winter Games, Madalyn is excited to compete in the 100, 200 and 400-metre snowshoe events in Thunder Bay. Of course, she's also looking forward to making new friends from across the country.
SIGN UP FOR OUR SPECIAL OLYMPICS CANADA WINTER GAMES NEWSLETTER