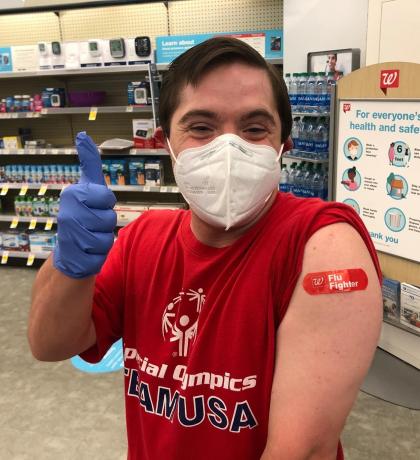 Getting a flu vaccine during 2020-2021 is more important than ever, because of the ongoing COVID-19 pandemic. 
COVID-19 is spread the same way the flu is spread. This year, Special Olympics is sharing flu education materials to help athletes practice prevention from possible exposure to both the flu and COVID-19.
Special Olympics encourages everyone to follow the Public Healthy Agency of Canada recommendations to get a flu vaccine, some of which include:
Everyone six months and older should get the flu shot
Get a flu shot every year
Learn more about flu from the Government of Canada
Flu vaccination is especially important for people who are at high risk for getting the flu, many of whom are also at high risk for COVID-19. 
| | |
| --- | --- |
| What is the flu? | What are the symptoms of the flu? |
| | |
| How do I protect against the flu? | What are more ways I can protect against the flu? |
| | |
Who is at high risk for the flu and complications from the flu?
People with an intellectual disability or a moderate to sever developmental disorder
People who live in a group home
People with health conditions, such as:

Cancer and other immune compromising conditions
Diabetes
Heart disease
Lung disease
Anemia
Obesity
Kidney disease
Neurological or neurodevelopmental conditions
Children up to 18 years of age undergoing treatment for long periods with acetylsalicylic acid (ASA)

People 65 years and older
People who live in nursing homes or other long-term care facilities
Children under 5 years of age
Pregnant people or those planning to get pregnant
People who experience barriers in accessing health care
People who are at an increased risk of disease because of living conditions, such as overcrowding
How does the flu spread?
The virus spreads from one person to others through:
The air when someone with the flu coughs or sneezes.
Tiny wet drops that spray out when a person who has flu coughs, sneezes or talks. They can land in the mouths or noses of people who are near you. Or they can go into someone's lungs when a person breathes in.
Touching something, like an object or surface, with the virus on it. Then touching your mouth, nose, or eyes before you wash your hands.
** The flu is spread the same way COVID-19 is spread. To help prevent the spread of flu and COVID-19, we all need to: Wear a face covering. Continuously wash your hands. Stay at least 6 feet away from others.
What are the symptoms of the flu?
Flu can cause mild to severe illness. At times, it can lead to death. Flu is different from a cold. Flu normally comes on suddenly. People who have flu feel some or all of these symptoms:
fever or feeling chills
cough
sore throat
runny or stuffy nose
muscle or body aches
headaches
tiredness
some people may have vomiting and diarrhea. This is more common in kids than adults.
What is the flu vaccine?
Flu vaccines cause antibodies to develop in the body. These develop about two weeks after vaccination. These antibodies provide protection. They protect against infection.
Does the flu vaccine protect against getting the flu?
A flu vaccine can help you from getting sick from the flu. Flu vaccines protect against the three or four different flu viruses that cause the flu each year. Research shows flu vaccines can help protect against getting the flu. There is still a chance you could get the flu even with a vaccine. But if you get the flu vaccine and then you still get the flu, it will generally be a milder case.
Will the flu vaccine protect against exposure to COVID-19?
Getting a flu vaccine will not prevent COVID-19. But, getting a flu vaccine is very important, especially for those with ID. It is possible that the flu and the virus that causes COVID-19 will spread at the same time. It is also possible that people may get flu and COVID-19 at the same time if both viruses are circulating. Flu vaccines have been shown to reduce the risk of flu illness, hospitalization and death.
See below for a list of resources that we have created and shared with Special Olympics athletes, coaches, volunteers, families and others around the world.
Why should I get the flu vaccine this year?
This fall and winter, getting a flu vaccine will be more important than ever. Hospitals, clinics, and doctors' offices will be busy caring for COVID-19 patients. Flu vaccines can help save scarce medical resources. These resources are needed to care for COVID-19 patients while protecting people with disabilities. Many people with ID have specific chronic conditions that make getting the flu more serious. They are at increased risk of respiratory disease, of pneumonia, and death from the flu. Getting a flu vaccine is that first step in protecting themselves from respiratory illnesses. Getting vaccinated yourself may also protect people around you. Including those who are more vulnerable to serious flu illness:
Babies and young children
Older people
People with certain chronic health conditions
Caregivers of people who are at higher risk of getting the flu
Where can I get the flu vaccine?
If you do not have a doctor that you regularly see, flu vaccines are also available at local pharmacies.
Click here to find flu clinics across Canada.
Visit the Public Health Agency of Canada for more information.
Check out more resources from Special Olympics International.