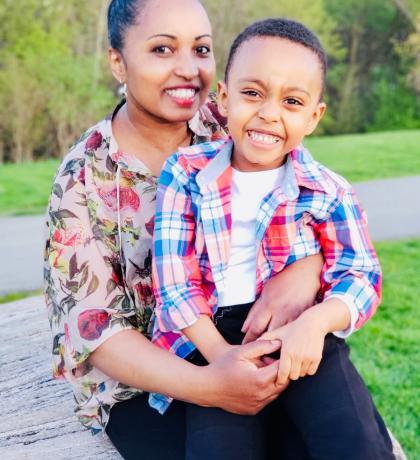 I remember when I used to pick up my son, Emmanuel, from the daycare playground. 
 
It hurt my heart to see him staying back, sitting by himself and watching the other kids play.
 
You see, even though he could walk, Emmanuel couldn't balance very well. It shook his confidence too much to try and play with the other kids.
 
As a mother, it is a hard thing to see your child left out. 
 
When I found out that Emmanuel's gross motor skills were not developing as quickly as other children his age, I was so worried about the differences and challenges that he might face as he grew up. 
 
So I went looking for a program that could help him participate in gross motor activities in a safe environment. All the things most people take for granted that their kids will do – walking, running, jumping, climbing, and throwing - that's how we discovered Special Olympics.
I registered Emmanuel in our local Special Olympics Active Start program. The program helps children with an intellectual disability ages 2-6 develop the basic motor skills that Emmanuel was struggling with. He loved his wonderful coaches, and he couldn't wait to go back each time.
 
Ever since then, I've watched my son flourish.
 
It has given me such tremendous joy to see Emmanuel and the other kids feel comfortable enough to just be themselves and to join in. 
 
All kids learn best when they are excited and engaged. And for us, Special Olympics became Emmanuel's safe place, where he was included, accepted and celebrated. He thrived there and at home.
Now it's my turn to help other families find out about Special Olympics. I want all parents of children with diverse abilities to know that they are heroes – and that there's a place where they and their children will be celebrated.
 
In Special Olympics, Emmanuel learned so many skills – balancing, coordinating, throwing and running. But he also learned how to play. How to take turns. How to wait and follow directions, and really just how to join in and be an active, energetic kid.
Special Olympics has changed our lives – and I know that they can only offer their amazing programs with the support of people like you.
 
Here's the thing I know about Special Olympics: they make sure that everybody wins. That every athlete feels like they are on the top step of that podium. And not just the athletes – but their coaches, volunteers and families too!
 
With that in mind, will you consider making a special gift today, to keep Special Olympics going?  Any gift makes a big difference. In fact, signing up to make a small monthly donation is a great way to give, too.
MAKE A DONATION
  
I know first-hand what a difference your support makes to Special Olympics athletes – and to the people who love them.
 
If you have a friend or family member who would like to find out more about Special Olympics, please encourage them to get involved. I can promise that it will change their lives like it did ours. 
 
With sincere thanks,
Sosena Tezera & Emmanuel