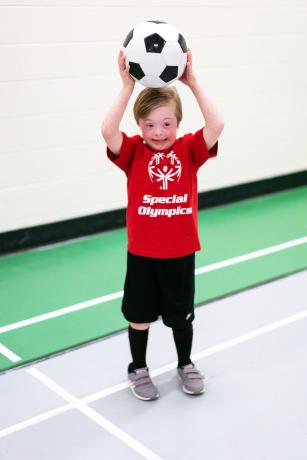 On Monday October 21, 2019 the 19th annual Give a Toonie Share a Dream fundraising campaign is back at Staples Canada. From now until November 3, Staples customers can support Special Olympics by making a donation in store or online at staples.ca/shareadream. 
The funds raised by Give a Toonie Share a Dream help Special Olympics deliver world-class sport programs to people with intellectual disabilities across Canada. These programs – both community and competition based – transform lives not only through health benefits, but teaching life skills, values, discipline, socialization and inclusion. 
The face of this year's campaign, Levi Adam, started his Special Olympics journey with Active Start, a family centred program for children. Now 8-years-old, Levi has gained the confidence to pursue his dreams and future without limits. 
We asked Levi's mom Jessica to tell us about why Special Olympics is so important to Levi and their family. 
Levi was born on October 1st, 2010 and we were quickly told that he has Down Syndrome. When given the diagnosis my husband Sean and I were apprehensive, as we were new parents and didn't know what it meant to take care of a baby with Down Syndrome. Those concerns were quickly put at ease. 
I had a semi-private room and the woman next to me, after overhearing some of our conversations, said something that I will never forget:
"I have worked with kids with Down Syndrome for over 10 years and I want you to know that you have been given a gift." 
It was said with deep sincerity and a look of truly genuine happiness - like she knew something we didn't. She set us on a positive path from Day 1 and we are so grateful to her for the kind and heartfelt words. 
Which brings me to Special Olympics.
Sport is extremely important in our family's life. We believe it instills confidence, focus, patience, consistency, and a team player attitude that translates into every aspect of life. We were so excited to learn that Special Olympics had a program for children and enrolled Levi in Active Start as soon as he could walk!  He learned how to run, jump, throw, catch, be a team player and most importantly to have confidence in himself and his abilities. 
Levi is now an avid swimmer, skier, skater, and soccer player. He loves to ride his bike and one day hopes to do a triathlon, "like mommy." Special Olympics is so important because it gives Levi the opportunity to participate and compete at a local, Provincial, National, and maybe someday at a World level! We cannot wait to see how far Levi will go with Special Olympics and we will be cheering him on each and every step of the way! 
To learn more about Special Olympics Canada programs click HERE