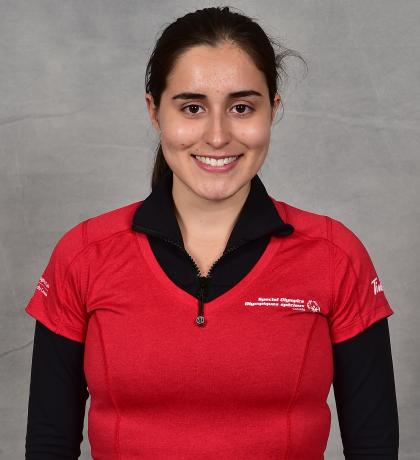 When you think about Special Olympics, grace typically isn't the first word that comes to mind. But when you describe figure skater JorDen Tyson, there is perhaps no better word.
"Figure skating is like dancing on ice," said the Calgary-born athlete, who will be one of ten athletes and coaches representing Canada on the world stage at the 2017 Special Olympics World Winter Games in Austria this March.

"It's so exciting!" she said. "Who would have thought I'd have this opportunity? I am so grateful and I am enjoying everything that is coming my way."

Tyson joined Special Olympics about six years ago. She discovered the organization through a friend, but it was the opportunity to compete in sports not regularly available in her community that really drew her in.

"My mother kept being told no, but Special Olympics opened those doors," she said. "I just wanted to get active again."
After being a dancer for more than a decade, Tyson said she was looking for a sport that would allow her to continue to utilize that skill set.

"My mother signed me up for track and field, but when the booklet came that showed all the other sports I knew figure skating was for me."

Since making the jump from the dance floor to the ice rink, Tyson has competed and taken home gold medals in a plethora of events and competitions, including the regional competitions, Special Olympics Alberta Winter Games, Canada Winter Games and Special Olympics National Games.

Despite her resounding success on the ice, Tyson said she continues to train hard, and with the Special Olympics World Games looming, her training regime has become even more intense. She is currently skating five times a week and participating in yoga, pilates, dance, as well as performance and agility classes.

"I am very dedicated to my sport and I love to perform," she said. "My coaches at Lake Bonavista Figure Skating Club are so supportive and are helping me train. Miss CJ, Miss Lizzy, and Ms. Barb and all the coaches at Special Olympics are all a part of my training."

"When you have fun and choose sports that you love, training is not a chore."

Special Olympics has given Tyson glory on the ice, but she said the impact on her life goes well beyond the rink.
"Special Olympics has made me an athlete and made me realize that I am not less than anyone else," she said. "I have a purpose."

The 2017 Special Olympics World Winter Games are scheduled to take place in Austria from March 14-25, and will feature more than 3,000 athletes from 110 countries around the world. Stay connected with JorDen and the rest of Team Canada @SpecialOCanada #SOTeamCanada17 #Austria2017 @2017Austria.