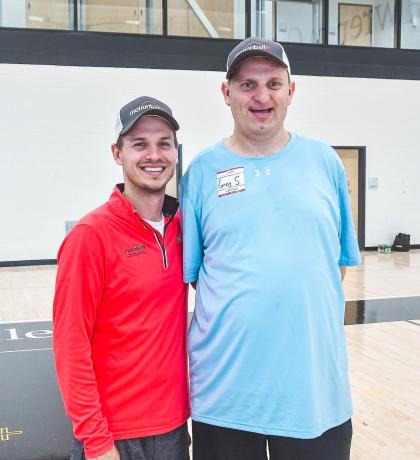 Special Olympics Ontario – Kingston coach and motionballer Chris Szymus started volunteering for the movement while he was attending Queen's University – but wishes he got involved sooner.
Growing up in Mississauga, Chris witnessed firsthand the impact Special Olympics had on his older brother Greg, who has autism spectrum disorder. He participates in Special Olympics five-pin bowling, softball and basketball.
"He's not super verbal, but when he's at Special Olympics events he really comes out of his shell," said Szymus. "He loves going around and saying hi to everybody – you can really tell he's in his element."
"I only wish when I was in high school I had the same kind of drive – I would have loved to do more sports with him."
When Syzmus started his physical education degree at Queen's University in 2012, he met fellow students who were involved in motionball, a national non-profit that introduces the next generation of donors, volunteers and sponsors to the Special Olympics movement through integrated social and sporting events.
Having taken courses on accessible sport – and knowing the impact it had on his brother – he decided "Special Olympics was a natural fit."
He got involved with the university's motionball committee – and eventually served as director for two years – and started coaching FUNdamentals, a Special Olympics program for young athletes aged seven to 12, designed to help children with an intellectual disability develop basic motor and sport skills through fun and positive movement experiences.
Although Szymus graduated in 2017 and is now working as a teacher, he continues his involvement in both motionball and FUNdamentals.
"It's just so much fun to be around and be a part of," said Szymus. "As someone who just loves and appreciates sports, it's just that feeling of watching someone succeed and everyone is happy for them."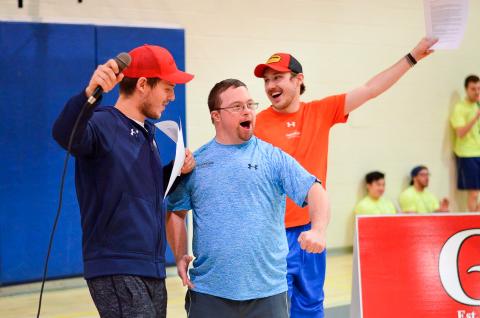 "You're not rooting for your team – you're rooting for everyone."
Szymus has gone above and beyond for his local program. Before the pandemic, he launched Club Fit, a fitness program that helps improve overall health. During the COVID-19 program suspension, he's also been keeping in touch with athletes by sending them online workouts and once programs start to return, he hopes to launch a walking club to get his athletes together and moving.
While Szymus has helped expand Special Olympics programs in Kingston – he never has trouble finding volunteers, which he credits to motionball.
"For a lot of my volunteers that I recruit, motionball really introduces people to the Special Olympics movement," he said, adding that he always first invites friends to motionball's Marathon of Sport, a fundraising event that pairs teams with a Special Olympics athlete for a day of sport and competition. "People really get to see what it's all about."
"It's hard to sum up in words … It's the most fun you can have playing sports."
Due to COVID-19, motionball moved Marathon of Sport to a virtual event this year, consisting of an hour-long online workout lead by Olympian Tessa Virtue and other Canadian celebrity athletes.
 Szymus sees the virtual event – taking place Saturday September 26 at 1p.m. ET – as an opportunity to introduce even more people to the movement.
"The nice part about the virtual Marathon of Sport is that we can connect with a lot of friends who are no longer in Kingston and some who haven't been involved with motionball," he said. "It's a cool way to get them involved, because it doesn't require much commitment on their end and we're exposing them to everything and potentially getting future motionballers for next year."
Currently, Szymus has a team of 15 and plans to get everyone together for a physically distant workout in a friend's backyard on Saturday.
To register as an individual or team for Marathon of Sport, click here.
To tune into the live event on Saturday September 26, click here.