To celebrate National Coaches Week Sept 19 to 27, we are thanking our 14,000 volunteer coaches across the country by sharing some of their inspiring stories. Their unwavering support helps Special Olympics athletes build the confidence, determination and strength to take on any challenge in sport – and in life.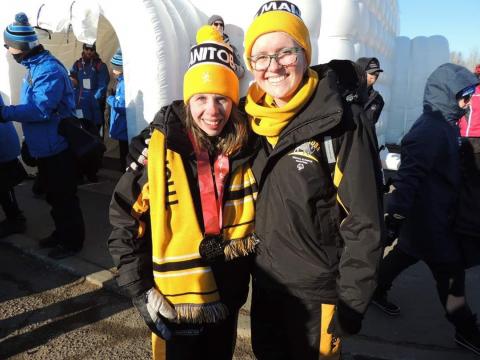 Meet Special Olympics Manitoba coach Reagan Croy
Reagan has been a volunteer with Special Olympics Manitoba since 2013 and is the Head Coach of Interlake Athletics. Aside from her coaching role, her commitment to building up and increasing awareness of Special Olympics in the Manitoba Interlake Region is what sets her apart. 
What made you get involved with Special Olympics Manitoba in 2013?
I started volunteering with Special Olympics Manitoba because my cousin was running the Interlake Athletics Club in Manitoba and she was looking for volunteers. It did not take long until I fell in love with volunteering and began to get my coaching certifications to work my way up within the club. 
I also had two cousins who were athletes at the time, so Special Olympics became a way for me to connect with them weekly. Our club has a uniqueness to it because my brother and I both started volunteering around the same time and we brought our friends out to volunteer at the practices as well, so we quickly grew the program from a club, into a community.
What do you love about coaching?
I love being able to help the athletes reach their goals, whatever they might be. To some athletes, they are happy every week by seeing their friends, others want to be there for fitness and physical activity, and others want to compete and get huge personal best times and distances. So, whatever their individual goals are, I am just so happy to be able to be a part of it, and help them get there.
I also love coaching because of the community it creates. It brings community not only for the athletes in the sense of their comradery with their peers, but it also brings a sense of community for the coaches, the volunteers, and the parents. Something that is really unique about my club is that whenever we practice there is always a group of parents or caregivers that will socialize, and they become their own kind of community and support for each other.
The combination of the athlete's individual goals and the sense of community that Special Olympics brings is what makes me absolutely love being a coach.
What is your favourite Special Olympics moment/memory?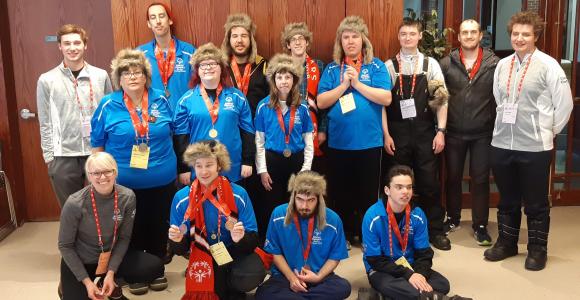 I have so many favourite memories and moments within Special Olympics, but there are two that stand out for me:
The first one is that last year, an athlete that I coach sang 'O Canada' at the Winnipeg Winter Games. For reference, the Winnipeg Winter Games are the qualifying competition for the National Games, so there were over 400 people in the crowd. Now, I wish I could tell you that I was singing along with him, but instead I was just standing there filming and crying because I was so proud of his confidence to be able to do that in front of this huge crowd. Additionally, this athlete typically has a stutter in regular speech, so to see him sing flawlessly is always a treat, and I was glad Special Olympics allowed him the opportunity to sing.
Another moment that stands out for me is when I was coaching an athlete in shotput. I will try to not get into too much of the technique here, but the main part we were working on was for him to lift up his elbow. We worked on it every week, but it was always something I would have to cue, because he wouldn't do it on his own. 
Then one day when we were at an indoor track meet, he lined up for his throw; at this point in a competition, I do not cue anymore because competitions are for the athlete's to try their best on their own, and not a time for me to coach. When he got ready to throw he got into his typical stance, with a low elbow, but moments before he threw, he used his opposite hand to physically lift up his elbow and he threw incredibly. I was just beaming; the track meet could have ended there for me. I was so proud of him.
How has Special Olympics changed your life?
Special Olympics has changed my life immensely. Being a volunteer at a young age changed the path I decided to take in school and the occupation I am currently working towards. I was a track and field athlete through high school and I continued to compete in university, but after a severe ankle injury, I decided to take a year off and do some travelling. 
In that year off I realized how much I missed my Special Olympics community, and that I wanted to return to volunteering when I was home. I ended up switching universities because I wanted to study Disability Studies. I ended up getting a minor in disability studies and I am currently working on my Master's of Occupational Therapy. The plan right now is to find an avenue as an Occupational Therapist to work with people with intellectual disabilities. Regardless of where I end up working in the future, Special Olympics has been a huge reason for why I am the person I am today. I honestly do not know who I would be if I hadn't started volunteering with Special Olympics.
What have you learned from Special Olympics athletes?
I have learned so much from Special Olympic athletes. I have learned that Special Olympics athletes are truly athletes. I know that might sound obvious, but sometimes I think the public looks at Special Olympics as a 'feel-good' sport, or like it is just for fun, when in reality, these athletes are working hard, putting in the time, and crushing their goals. 
I have also learned the importance of sport and the importance of routine. Sometimes I think those can be neglected, but when I see the value that these athletes get from the weekly community that we have built together, I see the importance. My athletes have taught me to not take sport and community for granted, in fact they remind me every practice of the importance of Special Olympics for them.
In what other ways are you involved with Special Olympics, aside from coaching?
I sit as the Secretary for the Special Olympics Interlake Leadership Team and last year, I organized a couple fundraisers for the region I coach in, mainly out of necessity. We had a big team of athletes heading to the National Games and we needed someway to support them to go. A goal within Special Olympics is for the athletes to pay as little as possible because often people with intellectual disabilities already have barriers to work and income, so it doesn't seem fair to ask them to pay for their recreation. 
To support the athletes, I put on a Yaymaker fundraiser (formerly known as Paintnite) at the local restaurant I work at. It ended up being a full house and we raised over $500 for our athletes.
My club and I also linked up with our local Safeway and held a barbeque where all the proceeds went towards the athletes heading to Nationals. That fundraiser was incredibly fun because the athletes were in charge of pretty much everything and got to engage the public in the fundraiser in a way that was fun for them.
I also organized a fundraiser/information booth at our local fair and rodeo. Athletes, parents, volunteers, and coaches all took turns at the booth to try and spread awareness of our club, while also accepting donations. 
I also held a snowshoe competition in our region, which was the first of its kind. It was a way for the athletes to have some meaningful competition before heading to the National Games.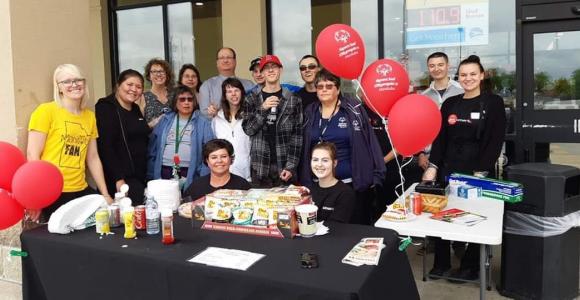 How difficult have the past few months in quarantine been on your athletes and you as a coach?
These past few months have been tough, and they have felt weird. When lockdown first happened, we decided as a club, to shut down and take an extended summer holiday. 
Interlake Athletics is very much a community, so it is difficult for the athletes to not be able to connect the same way. Usually this time of the year is filled with a lot of excitement as the athletes get back to training and we all get to share about how the summer has been. Even though we have not been able to gather formally, I know that my club is looking forward to starting up again when it is safe to do so. We are all having to practice our patience in these ever-changing times.
Why should other people get involved with Special Olympics?
Well if my story hasn't already convinced people to be involved in Special Olympics, let me try a little harder: people should be involved in Special Olympics because you don't know what you're missing until you join. On top of being a lot of fun, being involved in Special Olympics is part of a bigger movement of inclusion. As a society, we still have a long way to go, but I think we are making steps, and movements like Special Olympics, motionball, and In the Schools programs, are some of those steps towards inclusion.
If that's not enough of a reason, I can almost guarantee that you will get more out of volunteering with Special Olympics than what you put into it. I can't tell you the number of times that I have left a practice with more energy than when I arrived. It is hard to describe, and best understood by being involved, so if you are ever in the Selkirk area, feel free to stop by my club and see what it's all about!
Meet Special Olympics coaches from across Canada