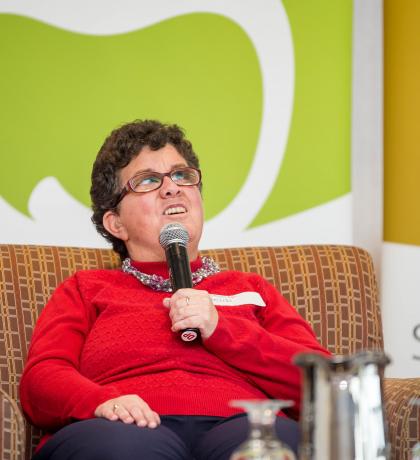 Special Olympics Prince Edward Island's Heidi Mallett is taking her advocacy international.
Mallett, 46, has been selected as the next Special Olympics North America (SONA) representative on Special Olympics International's Global Athlete Leadership Council (GALC). She is the first Canadian in this role since the Council was created in 2017.
The GALC is made up of seven athlete members, who represent each Special Olympics region across the globe and one athlete Chair (from the Global Athlete Congress, who is also a member of the Special Olympics International Board of Directors).
The GALC consults with Special Olympics International's Leadership and Board and represents their region's ideas and perspectives, while empowering and advocating for local athletes with an intellectual disability.
As the selected SONA representative, Mallett will be the voice of Special Olympics athletes across the North American region, which includes Canada, the United States and the Caribbean. She was selected out of 35 applicants.
"I am pretty honoured to take on this role," Mallett said from her apartment in Alberton, PEI.
Special Olympics PEI CEO Charity Sheehan couldn't imagine an athlete better fit for the position.
"This role was made for Heidi. She is equal parts advocate and lifelong learner," said Sheehan. "We are beyond proud of her accomplishment and are excited to watch her bring her passion for Special Olympics and her advocacy skills to the international stage."
Mallett, an athlete since 2006, found out about the role over the summer.
"I went through the job description and I knew that I was capable of doing the job," she said.
Mallett has an impressive resume filled with leadership and advocacy experience. She currently serves as the PEI representative on Special Olympics Canada's Canadian Athlete Leadership Council, as well as the Athlete Representative for the Special Olympics PEI Board of Directors. She's also a Health Messenger, a Special Olympics athlete trained to serve as a health and wellness leader, educator, advocate and role model within her community.
"I like advocating for people who have disabilities and for people who cannot speak for themselves," HEIDI said. "I like helping people and I like advocating for people's rights."
She's also the President of PEI People First, an organization that represents and advocates for PEI residents with an intellectual disability and serves on the People First of Canada's national Board of Directors.
According to Special Olympics International Senior Director Amie Dugan, Mallett stood out among a competitive pool of applicants.
"Heidi's leadership experience, skills, passion and all-around aptitude for the role will make her an outstanding representative on the Global Athlete Leadership Council," said Dugan.
For Mallett, advocacy work is her calling and she was ready for an international opportunity.
"I like advocating for people who have disabilities and for people who cannot speak for themselves," she said. "I like helping people and I like advocating for people's rights."
Mallett already has goals for when she begins her three-year term in January 2021. Her first is to ensure all Special Olympics communication is released in plain language.
"That's one thing that I want to conquer," she said. "It should be in a language that people understand – not in all these big words."
She also wants to be part of getting athletes back on the field of play post Covid-19.
"It's important to get our sport programs and our local programs all back up and running," she said. "It's not going to happen overnight and yes, we can talk about the big stuff like Nationals and World Games, but I think it's more important to get everybody back to play and then we can look at next steps."
Mallett, a 5-pin bowler, golfer and bocce player, knows firsthand how tough it's been to go without programs during the pandemic.
"I do miss it, because it was an evening out for an hour and a half, but I understand, due to the pandemic, we can't do things like we once did," she said. "I look forward to the day when we can see everybody and get back at it again."
Mallet also sees the new position as "a good learning experience."
"I'm hoping to learn more about how Special Olympics does things throughout the world," she said. "That's the biggest thing that I want to learn – especially in the Caribbean – how things are done there and where there might be a lack of resources."
Mallett's term on the GALC is January 2021 to December 2023.
To support athletes with an intellectual disability like Heidi, donate now: