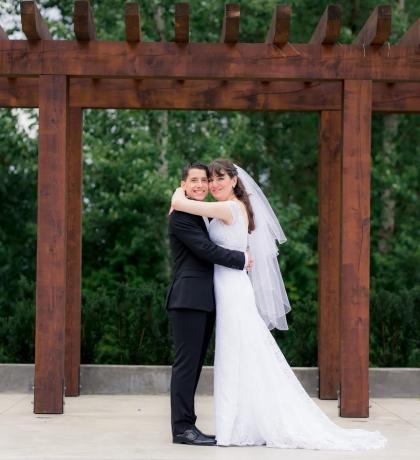 Langley B.C.'s Matthew and Crystal Williams are high school sweethearts who met through their special education class at Walnut Grove Secondary School in 2005. By 2009 they started dating and got married in September 2018.
"Our wedding day was the happiest day of our lives," said Special Olympics BC's Matthew Williams, a former World Games competitor in basketball and Special Olympics International board member. "With both of us having a disability, we didn't think we would have this experience in our lives."
Over the past 11 years, they've gone to prom together, took a trip to Hawaii, attended different Special Olympics functions – including the Special Olympics World Games Abu Dhabi 2019 – and enjoyed many holidays together.
Still, nothing beats their wedding day.
"I was so excited to see Crystal walk down the aisle in her beautiful dress. I realized I would be able to spend the rest of my life with not only the love of my life, but also with my best friend," said Matthew. 
For Crystal, meeting Matthew was "the absolute best" thing that has ever happened to her. 
"I honestly didn't think that there was going to be anyone out there for me because of me having a disability," she said. "Getting to see how handsome Matthew looked as I walked toward him down the aisle was amazing. I'm so happy that I have Matthew in my life."
Wishing a Happy Valentine's Day to Crystal, Matthew, all of our athletes and supporters!
Show some love to Canadians with an intellectual disability by making a Valentine's Day donation in honour of Matthew and Crystal.