Join Special Olympics Team Canada's official Strength & Conditioning Coach Steve Topham, for a 10-week functional workout program, taking place on Facebook Live every Tuesday and Thursday at 2PM EST on Special Olympics Canada's Facebook Page.
Mark your calendar for the first workout: Tuesday April 28 at 2PM EST.
A NOTE FROM YOUR STRENGTH & CONDITIONING COACH …
Hope you are ready for a sweating good time.  
Over the next 10 weeks, we are going to learn how to take advantage of the best piece of workout gear around: our bodies and gravity.  
All workouts are designed benefit athletes of any level.  Whether you want to be more flexible or have better balance, you will learn how to be 1% better everyday.  
Athletes will learn how to squat, lunge, push up, plank and jump in all three planes of motion to improve athletic performance as well as things we do everyday.
During the program, we will progress each week at how fast we move, how far we move and how long we move to become stronger and more resilient.  
Knowing that not everyone moves the same way, there will be ideas on how to change each exercise so that everyone has success.  
Start out slow and over time challenge yourself to work a little harder.  
Things you will need to workout: gym clothes, water, towel and open space.  
I look forward to working out with you wherever you are in Canada.
All and only the best,
Coach Steve
ABOUT STEVEN TOPHAM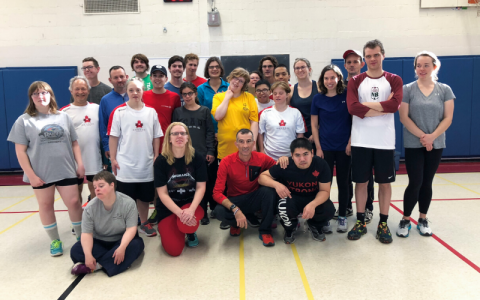 For the past 10 years, Steven Topham has helped develop Special Olympics Canada's National Team Program, serving as Special Olympics Team Canada's Strength & Conditioning Coach.
A Certified Personal Trainer and Performance Enhancement Specialist, he's also worked with Provincial and National Sport Organizations, including Swim Canada and Beach Volleyball Canada.
Through this work, he's produced educational videos for Swim Ontario and Special Olympics Canada, sharing the principles of functional movement. He has also been a guest presenter for Triathlon Ontario, while working with local sports clubs to build better athletes.
As an accomplished athlete and cyclist, Steve has completed multiple adventure races, including Eco-Challenge Adventure Race; TransAlp MTB and the inaugural Tour d'Afrique, an 11,000-kilometre race across Africa, where he achieved Guinness Book of World Records recognition. He is also an avid traveller, using his bike to see all the world has to offer.
Currently, the National Partnerships Director for Wounded Warriors Canada, a national mental health service provider for Veterans, First Responders and their families, Steve lives in Toronto, Ontario with his wife and two very active Portuguese Water Dogs.
MISSED A WORKOUT? FIND THEM HERE:
TUESDAY APRIL 28, 2020 WORKOUT

THURSDAY APRIL 30, 2020 WORKOUT