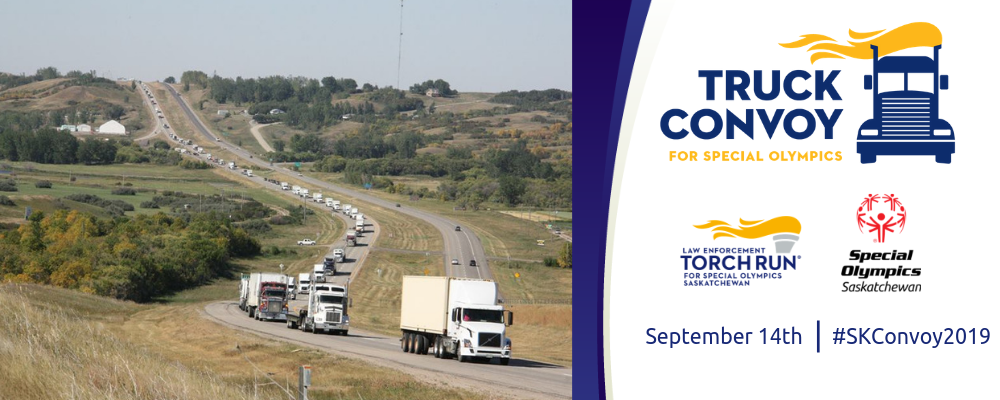 Take on the Challenge!
Join our compassionate army of truck drivers and be a part of the WORLD'S LARGEST TRUCK CONVOY. On Saturday, September 14th, 2019, Saskatchewan Law Enforcement Torch Run (LETR) officers will escort the World's Largest Truck Convoy from Saskatoon to Regina AND Swift Current to Regina to raise awareness and funds for Special Olympics Saskatchewan athletes. Join in and help change attitudes toward people with intellectual disabilities. 
Trucks meet in Saskatoon or Swift Current for the official Convoy Kickoff, including a Kickoff Breakfast. Trucks are then escorted to Regina with brief stops in Moose Jaw and Chamberlain. Upon arriving in Regina, trucks will be welcomed by the Special Olympics community, including athletes, families, friends, colleagues, LETR officers, and various trucking industry agencies. The event concludes with a celebration BBQ at the Global Transportation Hub (12222 Ewing Ave) and the 8th Annual Truck Pull event.
Types of Vehicles Allowed
We welcome all types of vehicles, including semi-trucks, truck/trailer combinations, large trucks, low-boys, dump trucks, flatbeds, buses, tow trucks, large box trucks, and more. Please note, no hazardous materials or over dimensional combinations are allowed.
How To Participate
To participate, truckers must fill out a registration form or register online, making sure to select one of the starting locations and submit their registration fee of $100 payable to "Special Olympics Saskatchewan". A pledge form is included below for drivers able to raise additional money in an effort to secure the LEAD TRUCK POSITION in the convoy. The driver who raises the most pledges will be awarded this prestigious position! Completed registration forms should be returned to Special Olympics Saskatchewan at 1121 Winnipeg St, Regina, SK S4R 1J5 or emailed to jzerr@specialolympics.sk.ca 
Join the Truck Pull! 
The 2019 Truck Convoy will also feature the 8th Annual Special Olympics Truck Pull! With participation from many different organizations and groups, this always an exciting event to watch! Register your team of between 8 and 12 and see if you're the fastest team at pulling a 15-tonne truck for 15 metres. Register your team online at saskconvoy.ca or view the Truck Pull Registration Package below!