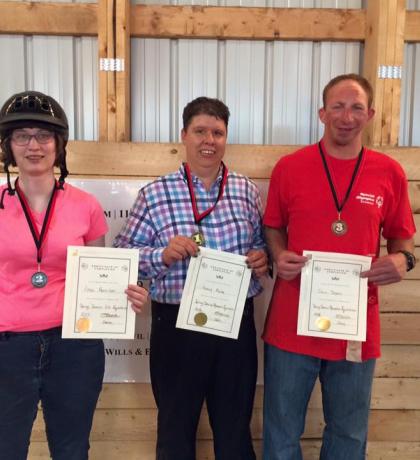 Amee Harrison began riding at CK Horse Horizons, with the Special Olympics Equestrian Program in Saskatoon, in May 2016. She had only been on a horse twice before beginning this program. The coach, Kyla Murch, pairs each athlete up with an appropriate horse. Amee began riding a Norwegian Fjiord horse named Tina. A volunteer led the horse to begin with, but as athletes become experienced and more confident to ride on their own, the volunteer just walks close by, in case they are needed.
The first session of ten weeks begins in May and goes until July. The last week Kyla has a fun evening where the athletes show off the skills they have learned. It might be riding in formation to music or a simple, timed obstacle course. Then each athlete receives a certificate, some get ribbons for the obstacle course best times and everyone enjoys some treats.
The second ten week session starts in August and finishes the middle of October. Amee eagerly signed up for this one, anxious to get back to her horse. She learned to brush it, safely move around it and ride it. She rides English saddle but others can choose Western saddles. Kyla helps the athletes learn how to change directions, walk the horse straight forward and follow another horse at a safe distance. She also loves it when athletes want to learn to groom and saddle or unsaddle horses.
In September 2016, Amee traveled to Moose Jaw to watch the Provincial Dressage Show in which Kyla and several others from CK Horse Horizons were riding. This allowed Amee to see how all the things she had learned could be put into practice in a show. It also gave her an opportunity to be part of the team by helping with odd jobs and grooming horses in the barns. She loved each moment and eagerly signed up for the 2017 Special Olympics Equestrian program.
In May 2017, Kyla switched Amee to a chestnut Morgan horse named Tattoo because of her increased abilities. Amee arrived at lessons early, in order to help get Tattoo ready. She learned to brush her horse, put the halter on and off as working on the skills of saddling and unsaddling the horse. She also stayed after the end of the lesson to help groom her horse and put him back in the paddock.
Kyla believes that anyone who wants to try something new should get an opportunity to do that. On July 8 & 9, 2017, Amee took part in the Saskatoon Dressage Club Give-It-A-Go dressage show which they held just south of Saskatoon. Amee entered the Para-Equestrian category and rode Grade 1-Test 1 from Equestrian Canada tests. She rode the test twice, on different days and in front of different judges. It gave her the chance to put into practice all the lessons she had learned.
Prior to the show, Amee had a copy of the test which she reviewed on paper many times. She had a practice session the day before the show at the host stables. This helped both her and her horse, Tattoo, become familiar with the new environment and the test.
Being part of the CK Horse Horizons' team at this show meant more than simply riding in the event. Amee needed to help get the stall ready for her horse as well as clean it out in the morning. She groomed Tattoo, made sure he had water and feed. Someone helped her saddle the horse and put his mane in a fancy braid.
Amee told everyone her goal for the event was to try her best and be able to see where she needed to improve, based on the judge's scores and comments. She always emphasized the importance of this as a learning opportunity, a chance to ride a few more times and have some fun. To receive a red ribbon, the entrant needed to score 60 points or higher. Points are earned on the performance of both horse and rider. The judge also looks at how well-groomed the horse is, whether the mane is either braided or shorn and on the appearance of the rider. Each rider is required to wear tall boots, riding breeches, a white shirt and jacket. Amee got a red ribbon on both her tests.
Riding horses offers athletes a time to learn new skills, increase their muscle tone and most importantly have a lot of fun. Amee says Tattoo feels like a friend. They have developed a bond and she loves when he turns his head to nuzzle into her shoulder as she grooms him or leads him to the pasture.
The Special Olympics Equestrian Program has been great for Amee and the other athletes who show up week after week to hang out with their friends, volunteers, coach and of course their horse.
Written and submitted by
--
Carol Harrison B.Ed.
Storyteller, speaker and published author Distinguished Toastmaster