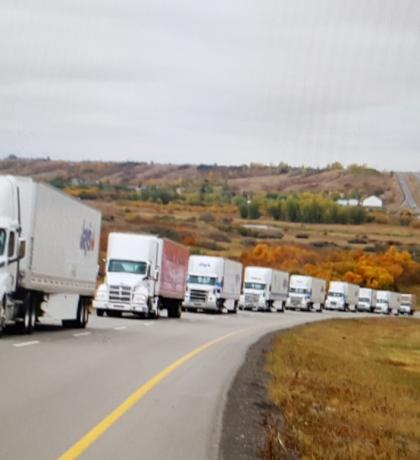 The World's Largest Truck Convoy for Special Olympics Saskatchewan pulled out an incredible day – despite the cold and rain! September 15th saw Highways 1 and 11 taken up by 42 semis, four pilot vehicles, and Law Enforcement vehicles all to raise money for Special Olympics.
Now in its 12th year, the Convoy raised an astounding $19,000 for the over 1200 Special Olympics athletes in our province. This is largely in part to some incredible trucking agencies who continue to support the convoy through sponsorship, planning, and of course entering trucks in the convoy. A huge thank you goes out to Jay's Transportation Group, 18-Wheels Trucking and Slinkemo Ent.
Leading the Convoy from Swift Current was Austin's Courier, their employee and Special Olympics athlete, Harold Robinson. The Convoy is very near and dear to Harold's heart and for the second year in a row, Harold raised the highest amount of pledges for the entire convoy! With his incredible $3120 in pledges this year, and over $1700 last year, Harold is truly making a difference with his efforts.
Leading the Route from Saskatoon was first time Convoy driver and a friend to Special Olympics Saskatchewan, Tyler Knaus. Tyler, hailing from Humboldt, heard about the Convoy and knew he had to get involved. Tyler has personal connections to Special Olympics athletes in Humboldt and Regina. While Tyler was thankful for the rain that made it easier to take the day off of farming, we are thankful for Tyler who committed to coming out to support Special Olympics – rain or shine!
Of course, the Convoy wouldn't be the success it is without the help of many incredible Law Enforcement agencies in Saskatchewan – Midale RCMP, Swift Current RCMP, Saskatoon Police Service and Regina Police Service. These agencies ensured the convoy made it through the cities smoothly and were delivered to Regina safely and relatively on time!
Regina was where the celebration was happening. The afternoon included a delicious BBQ sponsored by Cervus Equipment and served up by the Knights of Columbus, a bouncy castle, the Annual Truck Pull event and this year's highlight – the chance to dunk Special Olympics Saskatchewan's Director of Programs Darlene MacQuarrie in the dunk tank.
This year's convoy saw a shift in Saskatchewan due to the passing of a long time convoy planner, participant and friend of Special Olympics Saskatchewan, Paul Perry. Paul was involved with the Convoy from year one and an incredible asset particularly when it came to recruiting new drivers. Drivers in the Convoy, led by Brooks from 18 Wheels Training Services, wished to pay tribute to Paul and did so in the best way the trucking industry knows how. After a few touching words from Brooks, and a countdown from Paul's stepdaughter, the drivers laid on their horns and made as much noise as possible for Paul. Paul will be missed greatly, but as they say the "Convoy" must go on!
The truck pull saw seven teams compete to pull a 15 tonne truck 15 metres in the fastest time! Teams from Creative Options Regina, Wolseley, and Slinkemo as well as three athlete teams made up two divisions. The Regina Raiders Soccer Team defended their title as the fastest athlete pull team at 14 seconds. Slinkemo managed a pull time of 14.46 seconds – less than a second a metre! Both teams took home prizes – but more than that, they took home the pride and bragging rights of being the fastest pull teams!
To everyone who came out, donated, pledged a truck driver, participated in Convoy and helped to make the convoy a success, we say, THANK YOU!
Check back for pictures of the event, and save the date, September 14th, for the 2019 Truck Convoy!