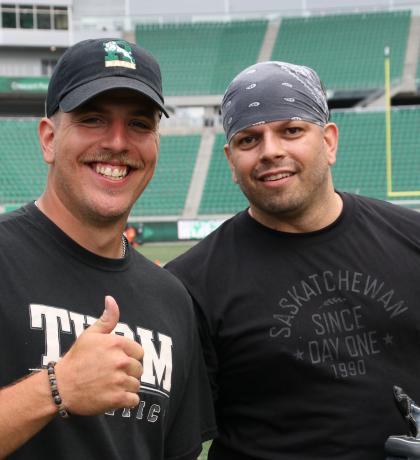 For over 100 Special Olympics Supporters, it was the opportunity of a lifetime to grace the field of Mosaic Stadium as competitors. A dozen teams of all ages and abilities came together in the first ever Queen City Blitz Flag Football Tournament for Special Olympics Saskatchewan, vying for the championship trophy, as well as bragging rights over their fellow players.
Whether playing to win, or to take in the atmosphere of the home of Rider Nation, players came together for an incredible day full of football, prizes, and even some special appearances.
Each team was guaranteed the opportunity to play at least four games on the stadium turf, with officials from Football Saskatchewan's NFL Flag Football guiding the action. In the end, two teams, The Great Western O-Six-Team and Cromartie's Kids would face off for the championship.
Before the semifinals, fans enjoyed refreshments and lunch courtesy of Western Pizza, and went home with a load of gifts from London Belle, SUDS Full Service Car Wash, Last Mountain Distillery, Molson Coors, LB Distillery, Outlaw Distillery, Running Room, Sperling Silver, Lancaster, Great Western and many more! Also keeping the participants fed and watered were Regina's 13th Avenue Safeway, Rainsoft, and the Coliseum Family Restaurant.
Players and volunteers were also treated to a visit by a pair of the Saskatchewan Roughriders' best, Running Back Jerome Messam, and D-Lineman Charleston Hughes. Also, Kelvin Ooms, who is better known as The Saskatchewan Rush Hulk, made an appearance in character, and also played in the tournament, travelling from Warman to be a part of the day.
Cromarties Kids, Sponsored largely by PCI, took home the trophy in a nail-biter of a finale. The real winners were the athletes of Special Olympics, who saw over $15,000 raised that day.
Click here to check out photos from this incredible day!
The future for the Queen City Blitz looks promising, as more exciting plans lay in wait for next year's tournament. To catch up on the event, search for #QCBlitz on social media, or head to www.qcblitz.ca for more.