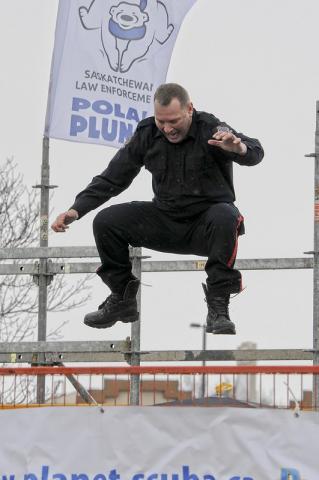 The Saskatchewan Law Enforcement Torch Run for Special Olympics Saskatchewan's first Polar Plunge of 2020 was a splashing success. With temperatures below -20°C the plungers really were "Freezin'" for a reason!
The official start of the Plunge came at 1:00 pm with introductions from LETR Officer Frank Kovacs and Special Olympics Saskatchewan Humboldt athlete, Tia Zimmerman. Tia expressed her thanks to everyone who participated and donated and recited the athlete oath before introducing the first celebrity plunger and Special Olympics Saskatchewan CEO, Faye Matt. Faye spoke some big thank you's to everyone who participated before bravely jumping into the water. Following Faye's plunge was an incredible group of celebrity plungers. Celebrity plungers included; Brit Dort, CTV News; Zack Evans, Saskatchewan Roughriders; Rob King, RCMP Spokesman; Tyler McMurchy, SGI Spokesman; Rod Pedersen, The Rod Pedersen Show; Deputy Chief Dean Ray, Regina Police Service and Mike "Hawkeye" Seel, Regina Police Service.
Waves of plungers followed at 2:00 pm and 3:00 pm. During these time slots, over 60 plungers jumped into the cold water. Part of making the day so memorable was all the Special Olympics athletes who attended the event. They were out cheering on the plungers, thanking and helping the volunteers, and even getting in a few games of baggo with the spectators. The plunge ended with both emcees, Tia Zimmerman and Frank Kovacs, taking the plunge!
Trophies were awarded to the Wheaton KIA Stingers and Rob King for being the Highest Fundraising Team and Individual respectively. The Stingers raised $2500 for their plunge, and Rob brought in $2600 in donations. The Polar Bear Award, otherwise known as best costume, went to "Super Coach" Jackie Powell. 
For those who weren't quite brave enough to take the plunge themselves, "Too Chicken to Plunge" 50/50 tickets were sold. For every ticket sold, a corresponding rubber chicken dumped into the bin. One lucky chicken, Chicken #931, was fished from the bin at the end of the event. The winner took home $2075.
In the end, $24,540 was raised at the Polar Plunge. The day was an incredible success and would not be possible without the sponsors, volunteers, spectators and of course the plungers!
(Photo Credit - Chris Atkings)