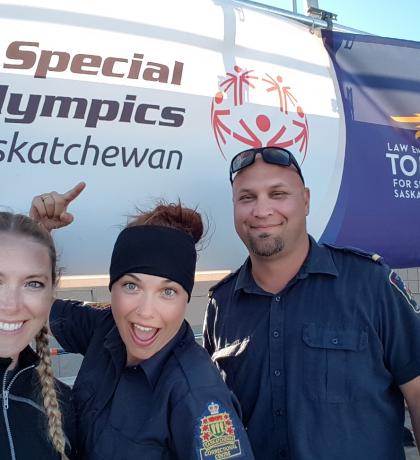 Over the weekend, two of our finest corrections officers volunteered their time to be jailed up on a scaffolding for Free Our Finest, a Law Enforcement Torch Run (LETR) event in support of Special Olympics Saskatchewan. Desiree Hesson with Saskatchewan Correctional Centre and Wade Madland with Corrections Canada ascended up the scaffolding at 10:00 AM on Friday, August 18th and weren't permitted to descend until Sunday, August 20th at 2:00 PM or until the event reached its fundraising goal of $20,000.
Multiple law enforcement agencies came together for this fundraiser, from Saskatoon Police Service, RCMP, Corrections Canada, Provincial Corrections, Ministry of Environment, and Provincial Sheriffs. With the help of Special Olympics athletes, funds were raised through merchandise sales, a BBQ, donation collection, and selling full water guns that were used to spray down the officers up on the scaffold.
This first-time event was a huge success and the Saskatoon area LETR is proud to announce that they successfully surpassed their fundraising goal, finishing the weekend with a total of $23,550!
A big thank you to the sponsors and supporters that helped facilitate this event: Walmart Canada, Harvard Property Management, Chinook Scaffold Systems Ltd, Sobeys, and Maple Leaf Foods, as well as Shoeless Joe's, Cora Breakfast and Lunch, and Chili's who provided sustenance to our officers up on the scaffold.