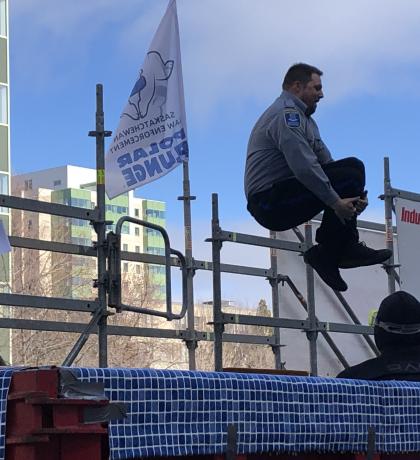 Splish splash they were taking a - Plunge?! 44 Brr-ave plungers took part in the first-ever Law Enforcement Torch Run Polar Plunge at the University of Regina on February 25th. 
Raising $9,300 collectively, the plungers jumped into the cold water at 1:00 PM, 2:00 PM and 3:00 PM. Celebrity Plunger, Harold Reimer, Dean of Kinesiology and Health Studies at the University of Regina took the leap first! Following right behind him was the highest individual fundraiser, Jeff Ritter from Saskatchewan Trades and Apprenticeship. An added touch to the 1:00 PM heat was free hot chocolate being handed out by the great staff at Sask Apprenticeship. The 3:00 PM heat was kicked off with our second celebrity plunger, Bob Maltman, Head Coach of the University of Regina Women's Soccer Team. 
The event was a huge success and while the current total raised is $9,300, more pledges have continued to roll in! Prizes were awarded to Jeff Ritter, Coram Construction and Kurtis Bray for Highest Fundraising Individual, Highest Fundraising Team, and Best Costume, respectively. 
A huge thank you goes out to all of the incredible volunteers, sponsors, donors and of course, the plungers! A special thank you to U of R Campus Security for all their help in the organization and implementation of this event. The Polar Plunge could not exist if it weren't for everyone involved.