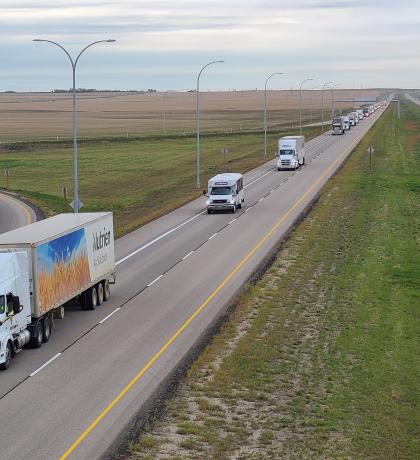 The 15th Annual Law Enforcement Torch Run for Special Olympics Saskatchewan Truck Convoy was a smashing success. With a route in each, Saskatoon and Regina drivers from across the province were able to participate. In Regina we had 34 trucks join the convoy and in Saskatoon we had 18. Between the two Convoys close to $30,000 was raised for Special Olympics athletes in Saskatchewan.
With help from the Knights of Columbus, the day was kicked off with breakfast for all of the participants. Drivers were able to meet and get to know the athletes they are supporting by participating on convoy. We were also able to hand out two awards to Al Ackerman of Slinkemo Enterprises Ltd, and Brooks Neumann of 18 Wheels T.S.. Al has been a long time supporter of the Truck Convoy and a lead fundraiser for many years. This year he and his team raised $18,000 this year alone! Brooks has also been with the Truck Convoy since day one. Beyond participating in the Truck Convoy, Brooks began to help plan the event, especially in recruiting new truck drivers. We are so grateful to have such hardworking and dedicated truck drivers in Saskatchewan to support the Truck Convoy for Special Olympics Saskatchewan!
The event was presented by Sasktel and sponsored by our friends at SGI and Jays Transportation Company. Thank you for your continued support for Special Olympics Saskatchewan athletes across the province.
We are thankful for the tremendous support we received from the amazing drivers who took part! The funds raised from this Truck Convoy will go toward supporting year round training and professional development opportunities for individuals with intellectual disabilities. One last and huge thank you to everyone who was involved in making this Truck Convoy such a success!
2021 Regina Convoy Lead Truck: Al Acjerman, Slinkemo Enterprises Ltd.
2021 Saskatoon Convoy Lead Truck: John Milburn, Maximum Training