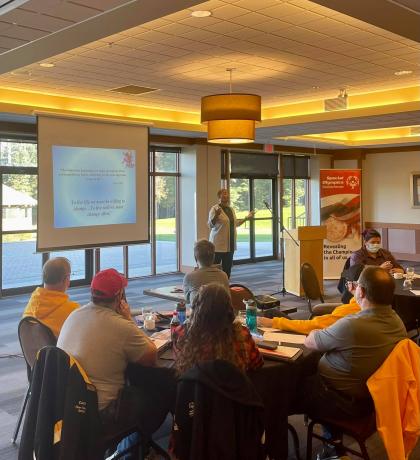 The long awaited 2021 Coaches Symposium was no disappointment! Coaches from around the province gathered in-person at Elk Ridge, Waskesiu to learn, network, and have fun! While following COVID-19 guidelines we were able to put on an in-person event that included a little bit of everything. We were able to deliver two presentations by Dr. James Makokis and Anthony Johnson over Zoom which allowed for coaches and volunteers to attend virtually. Overall, there were about 40 coaches in attendance.
The 2021 Coaches Symposium began with an ice breaker to encourage conversation between coaches who have not seen one another from other districts. This carried into Sport Specific Breakout sessions where coaches from all different communities could come together and discuss what they are doing now and have learned over the past year and a half.
The weekend was filled with valuable information, discussion, and self-discovery. The sessions included:
Rob Tomyn, Master Coach Developer: NCCP Multi-Sport Module - Basic Mental Skills
Georgette Reed, Health and Wellness Coordinator: Take Good Care: When you are looking after others, who's looking after you?
Dr. James Makokis, Family Physician & Anthony Johnson, Project Coordinator & Project Consultant: Diversity and Inclusion: LGBTQ2+ & Sport as well as, Indigenous, First Nations and Sport
Al Bodnarchuk, RMT and Consultant for Sport Medicine & Science Council of Saskatchewan: Self Massage and the Athlete
It would not be an SOS Coaches Symposium without the Scavenger Hunt planned and organized by Lindsay Randall. There were eight teams and each team was assigned a decade in which they had to dress up as. The winning team was the 1960s! Great job to everyone involved!
The Coaches Symposium is one way SOS supports, facilitates and encourages our coaches to become greater both personally and professionally. Thank you to all the coaches who attended the 2021 Coaches Symposium both in-person and virtually. Thank you for taking the time out of your busy schedule to learn and grow your skills for our athletes. We hope to see you all again next year!