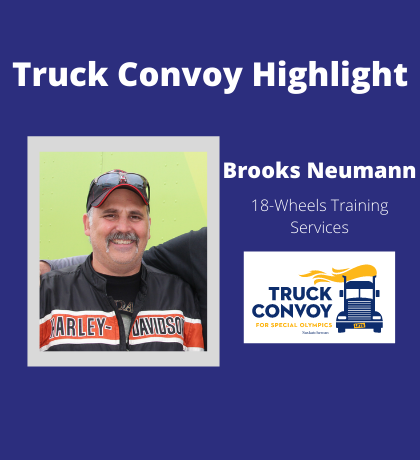 With the 14th Annual Truck Convoy for Special Olympics Saskatchewan only days away, we want to take this time to introduce you to some longtime supporters of the event!
Get to know Brooks Neumann from 18-Wheels Training Services as our last Truck Convoy Highlight!
How long have you been participating in the Truck Convoy for Special Olympics Saskatchewan?
"Either right from the start or close to the beginning of the start of the convoy. I think our first year was 2007."
Why do you participate in the Truck Convoy?
"It's about truck drivers showing the public that there are people who care and are willing to help support our communities and the people within them. We really look forward to seeing the Special Olympics athletes and the fact they are so happy for the support makes us continue to do it year after year."
What is a memory that stands out from participating in the Truck Convoy?
"It's hard to say. some years it's been being the Lead Truck or breaking records for how many trucks are in the convoy. It also even been seeing if we can beat the previous high total raised."
Why do you think other truck drivers and companies should get involved in the Truck Convoy?
"People should really consider doing it, it's once a year, and it's fun to be part of the convoy. People are honking and waving, and you're with a group that enjoys being out there and showing support for our community. It promotes a positive aspect of the trucking industry that we're able to come together and participate. It really comes down to the people, we've made a lot of friends and contacts through Special Olympics."
Thank you Brooks and 18-Wheels Training Services for your longtime support in the Truck Convoy! With your help we are able to strengthen our communities, create a more inclusive society and most importantly instil confidence, self-esteem and other life skills in our athletes!