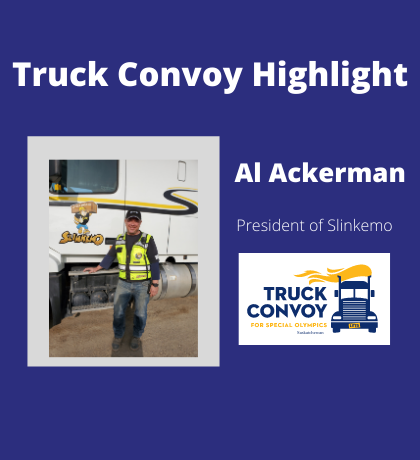 With the 14th Annual Truck Convoy for Special Olympics Saskatchewan only days away, we want to take this time to introduce you to some longtime supporters of the event!
Get to know Al Ackerman, the President of Slinkemo as our third Truck Convoy Highlight!
How long have you been participating in the Truck Convoy for Special Olympics Saskatchewan?
"I believe we have been participating since year 1. A fellow trucker invited me to join. I entered with one truck that year. As we entered the Lumsden Valley, I realized that I needed to get behind this more. It brought both pride and humility as we went through the valley."
Why do you participate in the Truck Convoy?
"As an owner of a trucking company I recognize that the public's image of trucks is not always that of your "friend of the highway". The idea that Special Olympics wants to use trucking as their friend and spotlight the trucking industry in their fundraising efforts is not lost on me as a business owner and member of the community. Special Olympics' desire to use a Truck Convoy to create awareness for their athletes has inspired our company to support the organization in their efforts. We believe it helps to demonstrate that we are all members of the community, supporting one another to make our communities a better place to live and enjoy all life has to offer and to build a better quality of life for all in our communities."
What is a memory that stands out from participating in the Truck Convoy?
"It was the 1st year of the truck pull. One of the athletes that came up to me and said "thanks for supporting special olympics, we really appreciate it." That was a good reminder for me in regards to why we participate. A second memory was the horn blow as we remembered Paul Perry who was an avid supporter of the convoy."
Why do you think other truck drivers and companies should get involved in the Truck Convoy?
"I think other truck drivers should participate because it is a great way to show the community we are simply citizens of the community that happen to make our living driving trucks. That we care about our community. That we support our community. That we appreciate that Special Olympics thinks enough of the trucking industry to use it as a vehicle to raise awareness and funds for Special Olympics Saskatchewan."
Thank you, Al and everyone at Slinkemo for the longtime support of our Truck Convoy! With your dedication to the event, we are able to enrich the lives of individuals with an intellectual disability through sport!