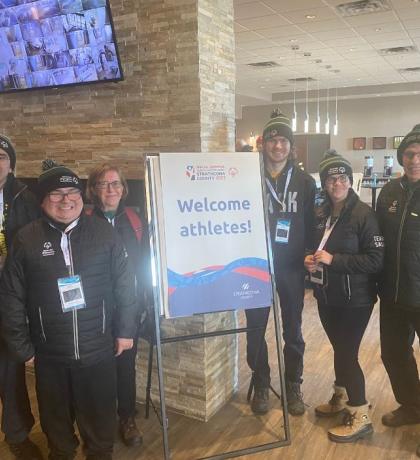 The 2023 Special Olympics Alberta Winter Games were held in Stathcona County from February 24th-26th, 2023. Special Olympics Saskatchewan sent four athletes and two coaches to compete in Speed Skating and Cross Country Skiing! Jordan Stevenson from Saskatoon competed in Speed Skating under the guidance of Coach Larry Fast (also from Saskatoon). Cross Country Skiing athletes Bo Carriere, Dylan Dovell and Jordan Blomme were coached by Barb Degenstien, all from Saskatoon.
On Friday evening, the athletes and coaches took part in a spectacular Opening Ceremonies that featured a parade of athletes, a Powwow drumming and dance performance, and the lighting of the Games Torch. Finishing off the day, all athletes and coaches got settled in and prepared for a busy day ahead.
Saturday was an early morning for all the athletes and coaches as the day was packed with competition. The final results of each athletes competition were:
Speed Skating Results (located at Millenium Place)
Jordan Stevenson - 4 Gold Medals (3000m, 1500m, 1000m, & 500m)
Cross Country Skiing Results (located at Strathcona Wilderness Centre)
 Bo Carriere - 2 Gold Medals (Division 2 Male 5km & 2.5km) and 1 Silver Medal (Division 1 Male 1km)
Dylan Dovell - 1 Silver Medal (Division 1 Male 100m) & 1 Bronze Medal (Division 1 Male 500m)
Jordan Blomme - 1 Gold Medal (Division 3 Female 500m) & 1 Silver Medal (Division 1 Female 100m)
Saturday evening, everyone took part in the dance with music provided by an entertaining Dueling Piano show. The theme for the dance was "Glow for Gold" and the SOS athletes and coaches shined in the night with an assortment of glow-in-the-dark necklaces, bracelets, and glasses. Definitely a well-deserved night of fun!
The SOA Winter Games was a great experience for everyone who attended. A big thank you goes out to Special Olympics Alberta and everyone in Strathcona County who made the Saskatchewan athletes and volunteers feel very welcomed and at home for the weekend!